Rebuilding effort begins behind talented freshman class and returnees
The 2007-08 Illinois Wesleyan Season Preview
November 12, 2007
---

"Our goal centers around your dream of creating a very special home - call us to get started."
Office Location: 1 Brickyard Dr., Bloomington, IL. 61701
Phone : 309-663-2045 or 217-841-5710
Email: bjarmstrong@bjarmstrong.com
IWUHoops.com appreciates the support from B.J. Armstrong (IWU '93) Custom Homes!
---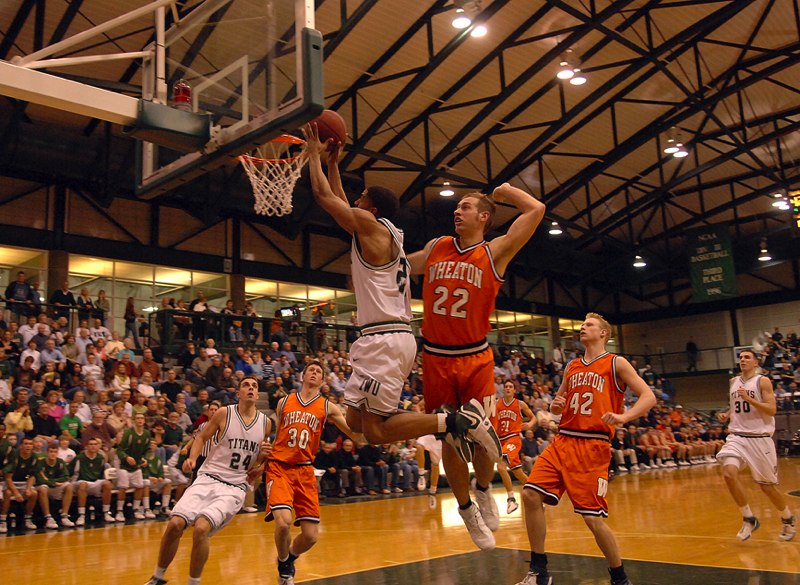 Senior Darius Gant, shown here scoring 2 of his 27 points vs. Wheaton on Feb. 9, 2007, returns to lead a young Titan squad
---
Links
Season Schedule, Links to All Opponents
Recruiting 2007 - Class of 2011
The Shirk Center - Home of the Titans
IWU.edu (official school site)
Past IWUHoops.com Season Previews: 2006-07 2005-06 2004-05 2003-04 2002-03 2001-02 2000-01
---
Rebuilding
---
Looking back
The Ron Rose I met with on November 9 at Tommy's Grill was the same congenial, likeable guy I interviewed in the indentical spot on campus one year ago. Something was different though...something more that just the toasted PB & J sandwich he selected for our lunch meeting. The second-year head coach of the Titans just seems to have a level of confidence and comfort and that wasn't quite there in early November 2006.
"I'm more comfortable and relaxed in the position I'm in," explained Rose when asked about it. "Last year everything was new. There is such a large learning curve in the first year, from getting to know the players, to the conference, to the day-to-day rigors of the job. That is all behind me now and I feel like a have a foundation to build on and a vision for the future."
Rose's first year at the helm of his alma mater was filled with ups and down. First Team All-American Zach Freeman (21.6 ppg, 9.1 rpg) was fantastic and made the Titans a threat in every game. IWU knocked off UW-Whitewater on the road...won at Hanover...beat a good North Central team...had CCIW champ Augustana on the ropes twice. In the end, however, the Titans finished 11-14, 4-10 in the CCIW.
One could study the X's and O's and statistics of Illinois Wesleyan's 2006-07 season, but in the end it came down to the simple fact that, as good as Zach Freeman was, the Titans just didn't have enough horses to compete in the CCIW, possibly the nation's best Division III league. They had good complementary players around Freeman in the starting lineup early, but the team just didn't have any depth. When injuries occurred, the Titans couldn't respond. As last season played out, it was very obvious that recruiting would really become the story.
Restocking the cupboard
Rose inherited a unique situation in which eight seniors graduated from the 2005-06 team (1st Team All-American Keelan Amelianovich, 1st Team All-American Adam Dauksas, Cory Jones, Matt Arnold, Chris Jones, Jason Fisher, Mike McGraw, Steve Schweer) but only one recruited freshman (Sean Dwyer) joined the program - a deficit that has to be a first in Titan basketball history. In normal years, large outgoing classes are replaced by big incoming freshmen classes. The lack of bodies was an issue for the Titans last season.
"Our numbers in the program were really down last year, to the point we couldn't even run our JV program," said Rose. "We wanted to bring in a large class and a quality class so we could get the competition level and depth to where it needed to be."
There were many days last season when IWU's practice would end at 6:00pm, and you'd see Rose and all three assistants hit the road to watch recruits play. "Last year as a staff we worked tremendously hard at recruiting," said Rose. "It started in the summer in identifying prospects and then was a matter of evaluating talent and building relationships. My assistants were tremendous."
The hard work paid off. Ron Rose and staff landed an exceptional recruiting class that includes big-time Division III talent at every position. Headlining the group is probably 6-0 all-state point-guard Travis Rosenkranz from Macon Meridian (24.9 ppg, 5.8 apg, 4.4 spg). 6-1 all-stater Sean Johnson (18.3 ppg, 45% 3-pt) from Washington H.S. garnered some Division I and a lot of Division II interest last season. The loaded class also features 6-4 forward Matt Schick (Lincoln), 6-7 Doug Sexauer (Lockport), 6-7 Edmond O'Callaghan (St. Patrick, Chicago), 6-8 Duncan Lawson (Glenbard West), 6-5 Dan Schouten, 6-2 Chris Stamas (Glenbrook North), and 6-5 Josh Sutton (Lincoln). Titan fans won't truly be able to evaluate how good this class is until March of 2011, but on paper, it's awfully impressive.
"We feel really good about the class," said Rose. "I think the young guys we brought in are 'Illinois Wesleyan type' kids that are going to be good students, good kids to represent the university, but also talented basketball players."
Rose is quick to point out that he had some critical help in the process outside of his coaching staff. "Our players did a great job of helping to recruit when we brought kids on campus," he said. "One of the things our recruits consistently say is, 'I just really liked the players and felt comfortable with them.' Our players were very unselfish and understood that we needed to bring in some quality players to help...their role in recruiting is a perfect example of the type of kids we attract at Illinois Wesleyan."
Rose thinks the talent infusion will have an impact on the entire roster. "The young guys will make Darius Gant better, Andrew Gilmore, Brett Chamernik, and down the line," he explained. "The best thing you can have on a basketball team is competition, and now we have that for every spot."
Putting the pieces together
It's one thing to find the players. It's another to establish roles, develop them, and put them in the best position on the court to succeed. Rose and staff have been hard at work on that plan for months.
"We spent a lot of time as a staff before the season talking about how to structure practice to be able to 1) teach everyone the system, but 2) to be able evaluate who should play what position and start to establish roles," he said. "Everyday in practice we have really mixed up who is going against each other. Here we are a week away from our first game and this will be the first week of practice we really go first team versus second team."
Rose says there are a lot of factors to consider. "Which players are grasping our offensive and defensive schemes. Which players are on the teams that win when we do competitive drills. The two scrimmages and the Green/White game. Who is playing hard on every play. These are all things we are evaluating" he explained.
While the picture is starting to come into focus, it will probably keep changing. One big factor coming into play as the Titans prepare for their opener, unfortunately, is injuries. Returning starter Andrew Gilmore is working hard in his rehab from knee surgery, but still unable to go on back-to-back days. Freshman point-guard Travis Rosenkranz has a stress fracture in his back and is most likely out until mid-December. Sophomore point-guard Sean Dwyer is still battling back from the broken foot he suffered last season. He hopes to be ready in late December. Senior Brian Nussbaum, back from shoulder surgery, has missed the entire practice season with a broken nose and then a concussion. He is now healthy, but obviously not in basketball shape. Highly regarded freshman Dan Schouten is out until at least January, recovering from shoulder surgery.
"We're going to be a work in progress," said Rose. "The group that starts at Albion and the first players off the bench is our starting point, but that is not necessarily the way it is going to end up. We are going to continue to evaluate the entire first semester and see where we're at leading into conference play."
---
The 2007-08 Cast
---
Profiles of varsity candidates:
(Listed by year, then alphabetically)
---
Point-guard
| | | | | |
| --- | --- | --- | --- | --- |
| G | Robert Beauchamp | 6-1/195 | Jr | Cerro Gordo, IL (H.S.) |
Parkland CC: As sophomore, averaged 8 pts, 4 rebounds, 3 assists per game...named NJCAA Academic All-American.
Ron Rose: "Has quickly established respect among the team due to how well he has played on the football field...he brings a level of athleticism, strength, and toughness...we're looking forward to seeing what Robert can do on the basketball floor...hopefully he can help the basketball team as much as he's helped the football team."
| | | | | |
| --- | --- | --- | --- | --- |
| G | Justin Anthony | 5-11/170 | So | Elgin, IL (Elgin Academy) |
High school: Earned 4 basketball letters and 1 in track...two-time MVP for the Hilltoppers...twice named to 1st Team Independent School League...two-year all-area selection, Elgin Daily Courier.
Ron Rose: "Has been a pleasant surprise...a year ago Justin wasn't in the mix but has really gotten better...much stronger...has learned how hard you have to play...has put himself in position to be a contributor on this year's team."
| | | | | |
| --- | --- | --- | --- | --- |
| G | Sean Dwyer | 5-11/175 | So | Arlington Heights, IL (Hersey H.S.) |
2006-07: Was injured in IWU's second game at UW-Whitewater (broken foot) and missed the rest of the season.
High school: Averaged 14 points, 5 assists, 3 rebounds per game as senior on 19-9 team...shot 50 percent from the field, 40 percent from 3-point range, 76 percent at the free throw line...2.5 to 1 assist-turnover ratio...Daily Herald Player of the Year...Mid-Suburban East Player of the Year.
Ron Rose: "It has been a really frustrating year for Sean...has not been able to play since the second game last year...Sean is absolutely one of the hardest working young men you will ever find...has great passion for the game...has great leadership skills...the injuries have been a great lesson in patience for him...he has hung in there and we look forward to getting him back healthy."
| | | | | |
| --- | --- | --- | --- | --- |
| G | Travis Rosenkranz | 6-0/175 | Fr. | Macon, IL (Meridian H.S.) |
High school: Averaged 24.9 points, 5.8 assists, and 4.4 steals as a senior...shot 57% from the field, 42% from 3, 84% from the FT line...1st Team all-state IBCA...2nd Team all-state AP...fifth all-time in Illinois high school basketball in assists, sixth all-time in steals...pre-med major at IWU.
Ron Rose: "Has a court sense and court presence that is very unique...has a charisma that is infectious...a tremendous ball-handler...a tremendous passer with great vision...makes players around him better...just has a great feel for the game that can't be taught...we are looking forward to geting Travis healthy and on the court."
---
Shooting-guard
| | | | | |
| --- | --- | --- | --- | --- |
| G | Kevin Bryant | 6-2/200 | Sr | Batavia, IL (H.S.) |
2006-07: Averaged 2.9 points in 15 varsity games.
2006-05: Averaged 4.1 points on JV team.
2004-05: Averaged 7.0 points on JV team.
High School: Averaged 19.3 points as a senior...two-time All-Suburban Prairie Conference...named to four all-area teams...scored 1203 career points...majoring in Finance at IWU.
Ron Rose: "A fierce competitor...you know Kevin is always going to come practice and play hard...will give everything of himself and sacrifice his body...just a tremendous team player."
| | | | | |
| --- | --- | --- | --- | --- |
| G | Andrew Gilmore | 6-3/185 | Jr | Stillwater, MN (Stillwater Area H.S.) |
2006-07: Averaged 11.4 points, 2.5 rebounds, 3.2 assists in 25 varsity games...started all 25.
2005-06: Averaged 13.9 poins on JV team.
High School: Averaged 16.5 points and 5 assists for a Stillwater Area team that had a 20-10 record and advanced to the Elite Eight in Class 4A, the highest classification in Minnesota...connected on 58 3-pointers his senior season and shot 40 percent from beyond the arc...all-conference selection and honorable mention all-stater…member of the Minnesota Basketball Coaches Association All-Stars series.
Ron Rose: "Still recovering from knee surgery...has really been committed to following the rehab but there is just no way to speed up the process any...it will just be a matter of time...when he is healthy, he is one of the better guards in the conference."
| | | | | |
| --- | --- | --- | --- | --- |
| G | Jordan Morris | 6-3/195 | Jr | Washington, IL (Pekin H.S.) |
2006-07: 5.0 ppg, 2.0 rpg in 23 varsity games...started 7.
2005-06 Stats: 9.1 ppg as JV player.
High School: Averaged 17.5 points, 5 rebounds and 3 assists as a senior at Pekin...made 44 3-pointers...scored 1,523 points in prep career...3rd team all-state Illinois Basketball Coaches Association… Associated Press honorable mention all-state… Peoria Journal Star all-area first team…Mid-Illini all-conference player and all-conference Mid-State 6… three time all-area selection in Pekin Daily Times…team "MVP" and "Best Defense Award" winner as a senior… 1st Team Pekin Holiday all-tournament team and "Mr. Hustle" award winner .
Ron Rose: "A scrapper and hustler...worked hard in the off-season and has gotten a lot stronger...sometimes is a high risk, high reward player...as long as he stays within himself, he will really help the team this year."
| | | | | |
| --- | --- | --- | --- | --- |
| G | Sean Johnson | 6-1/175 | Fr | Washington, IL (H.S.) |
High school: Scored 18.3 points per game, averaged 3.1 rebounds, 2.0 assists, 2.0 steals...made 75 3-pointers, shot 45% from 3...scored 35 points in final H.S. game, a sectional loss to Peoria Richwoods...3rd Team all-state IBCA...Peoria Journal Star all-area team.
Ron Rose: "Has been put in a tough position early in his freshman year, being moved to the point-guard spot from his natural shooting-guard position due to our injuries...his ability at the point has really been a pleasant surprise and he has really handled it well...I like his willingness to do what the team needs at this time...has a chance to be a really good college player."
| | | | | |
| --- | --- | --- | --- | --- |
| G | Chris Stamas | 6-2/180 | Fr | Northbrook, IL (Glenbrook North H.S.) |
High school: As senior averaged 17.4 ppg on 17-8 team...38% 3-point shooter, 87% free throw...Special Mention all-state IBCA...played with Duke standout Jon Scheyer.
Ron Rose: "A tremendous shooter...has been slowed in the preseason by an ankle sprain and just trying to work himself back into shape...we look forward to getting Chris healthy and back in practice consistently."
---
Wing
| | | | | |
| --- | --- | --- | --- | --- |
| F | Elias Washington | 6-2/190 | So | Grayslake, IL (Central H.S.) |
2006-07: Averaged 4.2 points in 6 varsity games with high of 13 @ North Park on February 17.
High school: Waukegan News-Sun all-area...all-Fox Valley Conference...finished 7th in Class AA in high jump, at 6 feet 4 inches.
Ron Rose: "Very athletic...a slasher who can get to the basket...as he improves on his consistency from day to day, he will fight for time."
| | | | | |
| --- | --- | --- | --- | --- |
| F | Duncan Lawson | 6-8/225 | Fr | Glen Ellyn, (Glenbard West H.S.) |
High school: As senior, averaged 11 points, 7 rebounds, 4 assists for 22-8 Glenbard West team that made Super-sectional round...shot 40% from 3.
Ron Rose: "A unique talent in that he is so versatile...a 6-8 3/4 man who can handle the ball, pass the ball, shoot it...as Duncan gets used to the speed of the college game, and as he continues to get himself in better shape, he will really provide mismatches for opponents."
| | | | | |
| --- | --- | --- | --- | --- |
| G/F | Matt Schick | 6-4/190 | Fr | Lincoln, IL (H.S.) |
High school: Four-year starter at Lincoln where teams went 109-26 (.807)...two trips to Class AA state tournament in Peoria...part of 33-win team as senior...averaged 13.3 points, 4.7 rebounds, 4.3 assists, 2.4 steals as senior...Pantagraph All-Area...3rd Team All-State IBCA...all-time leader in games played at Lincoln (135)...#2 on all-time Lincoln assist list (210)...#2 on all-time Lincoln 3-point field goals made list (232).
Ron Rose: "A high IQ player...does about everything on the floor well...seems like teams he is on win consistently...has great anticipation skills and awareness of the game...just a winner."
| | | | | |
| --- | --- | --- | --- | --- |
| F | Josh Sutton | 6-5/205 | Fr | Lincoln, IL (H.S.) |
High school: Lincoln teammate of Matt Schick...part of 33-win team that made it to Class AA tournament in Peoria as senior...as senior, averaged 8.4 points per game, 4.9 rebounds (led team), shot 53% from the field...Special Mention Class AA All-State IBCA.
Ron Rose: "Tremendous upside...great outside shooter...just learning the game...a 3/4 that is a tough matchup...now learning how to play man-to-man defense and our motion offense...we are very excited about his potential.
---
Post
| | | | | |
| --- | --- | --- | --- | --- |
| F | Jason Bloom | 6-5/200 | Sr | Bloomington, IL (Normal Community H.S.) |
2006-07: 2.7 ppg, 2.6 rpg in 19 varsity games.
2005-06: Averaged 3.6 ppg on JV team.
2004-05: Averaged 6.4 ppg on JV team.
High school: At Normal, averaged 8 points, 5 rebounds, led team in assists (123) and steals (54) for 22-8 team.
Ron Rose: "A high energy guy...a guy you can put in when you need a burst of energy...what he lacks in size, he makes up for in fight...understands the game and is willing to put the team before himself."
| | | | | |
| --- | --- | --- | --- | --- |
| F | Darius Gant | 6-4/210 | Sr | Oswego, IL (H.S.) |
2006-07: 9.8 ppg, 5.3 rpg, .551 FG in 25 varsity games...started 24.
2005-06: 14.2 ppg on JV team.
2004-05: 14.0 ppg on JV team.
High school: Team captain...averaged 15.7 points, 11.8 rebounds, and 2 steals per game at Oswego as senior...earned four basketball letters for the Panthers…two-time all-area in Aurora Beacon News...three-time all-Suburban Prairie Conference selection.
Ron Rose: "Has potential to take our team to another level...when Darius is aggressive he can really be a force for us...we are looking forward to Darius following our motto of playing every play...if he does, he will be one of the better post players in the conference this year."
| | | | | |
| --- | --- | --- | --- | --- |
| F | Brian Nussbaum | 6-6/210 | Sr | Homewood, IL (Homewood-Flossmoor H.S. |
2006-07: Injured (shoulder)
2005-06: Injured (surgery to repair torn labrum)
2004-05: Played JV, averaged 17.5 points/game to lead team
High school: Averaged 7.5 points, 4.0 rebounds and 3.0 assists for team that finished 31-3 and 2nd in state class AA tournament...high school teammates included Julian Wright (Kansas), Cyrus Tate (Iowa), and Excell Hardy (Quincy)… three-year varsity starter…two-time honorable mention SICA East all-conference and all-area…team's defensive player of the year as a senior...earned three basketball letters and one in baseball.
Ron Rose: "Really a frustrating start for him this season...worked really hard to recover from shoulder surgery, but has suffered a broken nose and a concussion and just has not had many opportunities to step on the floor healthy and practice...we hope Nuss is able to stay healthy and get in practice to compete."
| | | | | |
| --- | --- | --- | --- | --- |
| F | Brett Chamernik | 6-5/230 | Jr | Naperville, IL (Benet Academy) |
2006-07: 1.5 ppg, 1.2 rpg in 24 varsity games (averaged 6 minutes/game)
2005-06: Averaged 13.1 ppg on JV team.
High school: Captain in both basketball and football...averaged 18.3 points and 8.1 rebounds, shot 52% from the field as senior at Benet Academy...1st Team Naperville Sun all-city team for two years ...All-East Suburban Catholic...twice East Suburban Catholic Conference scoring leader…named to Daily Herald all-area team twice…won four letters in both football and basketball.
Ron Rose: "A hard working, blue collar post player...put on about 20 pounds of muscle in the off-season...has really, really improved from a year ago...a very good low post defender...as he continues to learn to finish at the basket, we think he will develop as a scorer for this team."
| | | | | |
| --- | --- | --- | --- | --- |
| F/C | Edmond O'Callaghan | 6-7/210 | Fr | Chicago, IL (St. Patrick H.S.) |
High school: As senior, averaged 10.1 points and 8.3 rebounds for 20-6 St. Patrick team.
Ron Rose: "Potentially our most athletic post player...for a freshman, very strong...great leaper...adjusting to the college post game...I think we will see in the next month or two tremendous progress in Edmond's game as he gets acclimated to playing against players his size or larger."
| | | | | |
| --- | --- | --- | --- | --- |
| F | Dan Schouten | 6-6/220 | Fr | Downers Grove, (South H.S.) |
High school: Averaged 17.3 points and 7.5 rebounds for 17-10 team...Daily Herald All-Area team.
Ron Rose: "Will be out until at least January, recovering from off-season shoulder surgery...Dan is one of our biggest bodies and a very talented player...we look forward to getting him back and seeing him compete."
| | | | | |
| --- | --- | --- | --- | --- |
| F/C | Doug Sexauer | 6-7/210 | Fr | Homer Glen, IL (Lockport Township H.S.) |
High school: As senior, averaged 10.5 points and 5 rebounds per game for 22-8 Lockport team that made Class AA tournament in Peoria...3rd Team All-State IBCA...54.7% FG.
Ron Rose: A very talented post player...has great hands, big ole meat hooks...a very skilled post player in that he has great pivot moves inside and he can step out and shoot it...has gained a tremendous amount of strength since he has been on campus...will continue to get better as he gets used to physical nature of college play."
---
IWUHoops.com projections
From watching the scrimmages and reading between a few lines, here is how I see the IWU rotation heading into opening weekend...
PG - Sean Johnson, Fr (Justin Anthony, So)

SG - Jordan Morris, Jr (Kevin Bryant, Sr)

F - Matt Schick, Fr (Josh Sutton, Fr) (Duncan Lawson, Fr)

F - Darius Gant, Sr (Doug Sexauer, Fr)

C- Brett Chamernik, Jr (Edmond O'Callaghan, Fr)
Note - there are 11 players listed and realistically, there just isn't time for 11...even with a deep rotation. Most likely Ron Rose will settle on 9, so there are still plenty of issues to sort out.
The real question is, how will everything look on January 9 -- CCIW opening night? The Titans expect to have Travis Rosenkranz, Sean Dwyer, and Andrew Gilmore healthy by then. As the non-conference plays out, keep in mind that several players counted on in the early going will be pushed for their time, creating an even better level of competition. It seems like Travis Rosenkranz is a favorite to be the starting point-guard as soon as he's healthy, and that move would obviously impact the entire guard rotation.
---
Freshmen starters at IWU
With anywhere from 2 to 3 freshmen having a legitimate chance at starting by conference time, and 7 with a chance to be in the varsity rotation, this will be a very unique year for Illinois Wesleyan basketball. To put it into persepctive, consider the following:
IWU freshman starters, last 20 years:
(freshman season)

Zach Freeman '07 (2003-04)*#

Adam Dauksas '06 (2002-03)*#

Luke Kasten '03 (1999-00)*#

Korey Coon '00 (1996-97)*#

Bryan Crabtree '97 (1993-94)*#

Brian Martin '93 (1989-90)#

David Kunka '93 (1988-89)#

* = would go on to be a Division III All-American

# = would go on to be All-CCIW performer
Seven freshman starters...in twenty years...and all were studs. This season alone we're talking about maybe 2 or 3 starting by January.
In that 20-year span noted above, Illinois Wesleyan has had four players go on to be All-Americans who didn't even make the varsity rotation as freshmen (and played JV):
* Keelan Amelianovich '06
* Brent Niebrugge '98
* Chris Simich '96
* David Caldwell '91
In a "normal" year at Illinois Wesleyan, this current group of Titan freshmen - as talented as they are - would get their feet wet on the JV team. Maybe one or two would crack the varsity rotation and maybe even one would start...but that's about it. Things are different in 2007-08 -- a bunch of these youngsters are going to have to be thrown in the fire.
---
Non-Conference Schedule
---
Illinois Wesleyan has always played a tough non-conference slate and 2007-08 will be no exception.
"Our non-conference schedule is going to be very challenging," said Rose. "Some of the teams we play, like Tri-State, Dominican, Webster and the California schoools, don't necessarily have the name recognition, but almost of them are on the upswing, having won 15 or 16 games last year." He added, "It is going to be a great test, especially considering that we will still be finding ourselves and still learning."
The Titans open at the Albion Tip-Off Tournament, where they will face Tri-State University Friday, November 16. Tri-State, a member of the Michigan Intercollegiate Athletic Conference (which includes Albion, as well as Calvin and Hope), is building a successful basketball program. The Thunder went 5-21/2-12 in 2004-05, improved to 11-14/6-8 the next year, and finished 16-9/9-5 in 2006-07. One of their victories last season was over perennial MIAA and national power Calvin. On Saturday, IWU will either square off against the host Britons or Rochester College from Michigan. Albion (10-15, 8-6) won 20+ games four consecutive seasons from '02-03 through '05-06 before a rebuilding season last year. After a slow start, inlcuding a 94-80 loss to Illinois Wesleyan, the Britons won 8 of their final 11 regular season games and expect to be back in the MIAA contention picture this year. Rochester, a USCAA program, was 21-11 last season and has 6 consecutive 20-win seasons. In 2007-08, the Warriors will face two Division I teams (Oakland and Detroit-Mercy). Division II teams on the schedule include Grand Valley State (the team that recently beat Michigan State in exhibition play), Northwood, Saginaw Valley, West Florida, and Alabama-Huntsville. Last season they lost by 2 points at MIAA/Division III power Hope.
Three days later, IWU plays its first home game versus annual foe Olivet Nazarene (17-12/7-3 CCAC), a traditionally strong NAIA program. The Tigers are ranked #18 in the preseason NAIA DI poll and are led by preseason NAIA 1st Team All-American Phil French (18.1 ppg, 7.7 rpg), a 6-8/210 senior. 6-7/220 sophomore Tyler Wallenfang is back after a big freshman campaign (12.2 ppg, 5.9 rpg).
Phil French, Olivet Nazarene
Two in-region, Division III, home games follow. On Saturday, November 24 the Titans host Dominican, (17-10, 12-6) one of the favorites to win the Northern Athletics Conference. The Stars feature 6-8/230 senior Mike Haiduc, who averaged 15.7 points and 6.8 rebounds per game last season. 6-2/180 senior Jose Garcia (13.8 ppg, 2.8 rpg) is also back. The Webster (16-10, 14-4) Gorlocks, fresh off a St. Louis Intercollegiate Athletic Conference title in '06-07, visit Bloomington December 1. Webster should be tough to beat again in the SLIAC with 6-6 senior center Darrin Hoggatt (18.9 ppg, 7.0 rpg) and 6-8 senior forward Corey Kuhn (10.4 ppg, 4.6 rpg).
On Wednesday, December 5, it's off to Jacksonville for a matchup with Illinois College (8-15, 3-13). Senior guard Mark Gillingham (16.0 ppg, 4.1 rpg) leads the way for the Blueboys, along with 6-4 senior forward Joe Womble (10.7 ppg, 3.6 rpg).
The highlight of the non-conference schedule will be the Saturday, December 8 trip to St. Louis, where the Titans will face Washington University, the D3Hoops.com preseason #1. Wash U (25-5, 11-3) made it to the Division III Final Four last season, where they fell to Virginia Wesleyan by 2 points in the national semifinal before defeating Wooster for a national 3rd Place finish. The Bears are absolutely loaded in 2007-08, returning just about everyone, including their three stars. 6-6/220 post Troy Ruths (19.1 ppg, 7.9 rpg) was named a D3Hoops.com preseason 1st Team All-American, point-guard Sean Wallis (13.5 ppg, 2.6 rpg, 7.3 apg) made the 3rd Team, and 6-7 wing Tyler Nading (15.3 ppg, 6.1 rpg) is knocking on the All-American team door. The Bears have a trio similiar to what IWU had in Zach Freeman, Keelan Amelianovich, and Adam Dauksas.
Wash U's Final Four Team
Two games against familiar non-conference opponents will be next for the Titans. On Saturday, December 15 IWU will travel to the south side of the Windy City to face U. of Chicago (20-6, 11-3). The Maroons lost two key starters from their 2007 NCAA Tournament team, but return 6-5/200 forward Nate Hainje (13.5 ppg, 6.0 rpg), 6-1 point-guard Jake Pancratz, and 6-4/215 forward Matt Corning. The Maroons lost by just 8 points to Big Ten Northwestern in exhibition play last week. On Tuesday, December 18, the Hanover Panthers (14-11, 9-7) travel to Bloomington. Hanover returns their top 8 scorers, including 6-7/228 senior center Robby Brown (13.0 ppg, 9.3 rpg), 6-3/203 senior forward Marc O'Leary (13.0 ppg, 2.5 rpg), and 5-11/185 senior guard Clint Parker (12.8 ppg, 1.8 rpg). This will be the 5th consecutive regular season that IWU and Hanover have hooked up, with each team having won two games.
Nate Hainje, U. of Chicago
The non-conference season will end in the warmer climates of Los Angeles, California where the Titans will face two teams from the Southern California Intercollegiate Athletic Conference. Occidental (19-6, 12-2) will host Illinois Wesleyan on Saturday, December 29. The Tigers were hit hard by graduation after their SCIAC title/NCAA tournament season last year, losing 4 of their top 6 scorers. Oxy, one of the emerging Division III west coast powers, does return 6-1 senior guard Connor Whitman (17.0 ppg, 3.4 rpg) and lost by just 9 to Division I UC-San Diego in a November 4 exhibition. The final CCIW tune-up will be at Claremont-Mudd-Scripps (15-10, 7-7). The Stags return 6-3/195 guard Dan Winterbottom (10.1 ppg, 3.7 rpg, 2.1 apg) and 6-3/205 guard Austin Soldner (6.4 ppg, 3.7 rpg, 2.4 apg).
IWU's first three non-conference games are not "in-region" Division III games (the opponents at Albion will be out of region and ONU is NAIA), and thus, don't count for much of anything in the NCAA's eyes. The final eight are all in-region games, however. Considering how young and inexperienced this team is, and with some of the injuries they are dealing with in the early going, this works out pretty well.
---
College Conference of Illinois and Wisconsin
---
| | |
| --- | --- |
| 2006-07 CCIW Finish | 2007-08 Coaches Poll |
| Augustana 11-3 | Augustana 47 (6) |
| Elmhurst 10-4 | Elmhurst 43 (2) |
| Wheaton 9-5 | Wheaton 37 |
| North Central 8-6 | North Park 29 |
| Carthage 7-7 | Carthage 26 |
| North Park 5-9 | North Central 18 |
| Illinois Wesleyan 4-10 | Illinois Wesleyan 16 |
| Millikin 2-12 | Millikin 8 |
Augustana is picked to win its third consecutive CCIW title, garnering six of seven possible first place votes in the preseason coaches poll. Elmhurst received two first place votes and is picked second, followed by Wheaton. North Park rounds out the upper half, receiving 29 voting points (1st place vote = 8, 2nd = 7, 3rd = 6, etc).
Ron Rose seems to agree with his peers in assessing the top four contenders for the CCIW crown. "I know that Augustana feels like they're going to have their best team in recent years, and given the fact they've been near the top a lot lately, that says something," he said. "Elmhurst has the most dominant post player (6-9/255 Brent Ruch) and maybe the best shooter in the league (Ryan Burks) -- they are always a physically tough team. Wheaton has maybe the best player in Division III basketball (Kent Raymond) and a number of really solid players around him. North Park will be good -- they have done a great job of bringing in quality players and putting together two, three classes in a row that are strong. They will be fighting for that upper half."
IWU's head coach thinks there is a lot of talent among the teams picked to finish in the bottom four as well. "Carthage has some good, young players, especially on the perimeter. Millikin returns the three big kids (Joscar Demby, Zach Ott, Robert Rexroade), who are all very good. North Central has a couple transfers who should have an impact," he said.
Rose understands his club's #7 slot in the preseason poll, but hopes to prove the CCIW coaches wrong. "The league will be strong as usual and we realize we are young, but at Illinois Wesleyan we have certain expectations of ourselves and we would really like to get in that conference tournament. We think that is a realistic and reasonable goal," he said. "We are picked 7th, but we do not expect to finish there."
Wheaton's Kent Raymond
---
CCIW Capsules
Augustana
2006-07 record: 22-6 overall, 11-3 CCIW (1st)
Starters lost: Drew Wessels (8.8 ppg, 3.1 rpg, 5.1 apg), Nate Swetalla (7.9 ppg, 3.2 rpg), Shawn Rose (7.2 ppg, 4.0 rpg)
Starters returning: Jordan Delp (13.1 ppg, 2.6 rpg), Dain Swetalla (11.9 ppg, 4.8 rpg)
Impact newcomers: Brett Wessels (transfer from Iowa)
Projected Starting Lineup (by CCIW time):
G Matt Pelton (6-2/205, So)
G Jordan Delp (6-0,170, Sr)
F Brett Wessels (6-2/195, Jr)
F Oliver Rorer (6-6/215, Sr.) or Chandlor Collins (6-7/200, Jr)
C Dain Swetalla (6-9/240, Sr.)
Notes:
Grey Giovanine's team has won the CCIW title the last two years, and is the league's favorite in 2008. Augustana seems to be the one team without any significant questions to answer. The Vikings have good perimeter play with point-guard Matt Pelton, 2007 2nd Team All-CCIW selection Jordan Delp, and Iowa transfer Brett Wessels (brother of former Augie point-guard Drew). They have solid post play with 6-9/240 Dain Swetalla, another 2nd Team All-CCIW honoree last year, and the power forward platoon of 6-6 Oliver Rorer, one of the CCIW's most athletic players, and 6-7 Chandlor Collins. And finally, the Vikes have great depth, with the likes of Chandlor Collins/Oliver Rorer (4), Brian Larson (1), Alex Washington (2/3), Jeff Becker (2/3), Justin Bertrand (4/5), and Dan Rukavina (4/5). Augustana will get a tremendous test early, as the preseason #5-ranked Vikings travel to St. Louis November 24 to face #1 Washington U. Another highlight non-conference matchup will be the December 22 game vs WIAC and national power UW-Stevens Point, the preseason #3. The only thing missing from this team, if there is something missing, may be that superstar type player who is good for 18 points per game and has the ability to take over a game. Augie will be solid at every position on the floor for 40 minutes, but they may lack a true CCIW Most Outstanding Player/All-American type player in the 2007-08 rotation. Regardless, Augustana will be hard to beat this year and is a pretty clear favorite heading into the season.
-----
Carthage
2006-07 record: 16-9 overall, 7-7 CCIW (5th)
Starters lost: Brian Schlemm (17.4 ppg, 6.8 rpg), Nav Thompson (8.1 ppg, 1.9 rpg)
Starters returning: Trey Bowens (13.2 ppg, 2.1 rpg), Billy Jacklin (3.7 ppg, 5.0 rpg), Joe Higgins (2.6 ppg, 1.5 rpg, 4.0 apg)
Impact newcomers: Logan Derrick (6-0/165 Fr, G), Steve Djurickovic (6-3/170 Fr, G)
Projected Starting Lineup (by CCIW time):
G Joe Higgins (6-0/170, Jr)
G Trey Bowens (6-1/170, Sr)
G Steve Djurickovic (6-3/170, Fr)
F Billy Jacklin (6-5/205, Sr)
F/C Neb Franciskovic (6-7/255, Sr)
Notes:
The Red Men will have a ton of talent on the perimeter this year. In the 2007-08 Carthage season preview, head coach Bosko Djurickovic was quoted as saying, "I wouldn't trade our group of perimeter players with any coach in the league and maybe anywhere in the country. Between Trey Bowens, Sean Fendley and Joe Higgins, along with freshmen Logan Derrick and Steve Djurickovic, those are either exceptional players or players who can be exceptional." The question will be the post. Of the 34 players listed on the Carthage roster, 27 are guards, only 2 are identified as centers, and only 4 are taller than 6-4. 6-7/255 Neb Franciskovic (5.9 ppg, 2.9 rpg in 17 min/game last year) seems to be the best low post option, but he's certainly not a dominant player in the paint. It's very hard to contend in the CCIW without balance - good perimeter play and low post play - and the 2007-08 Red Men seem to have big questions in the paint. Look for 6-3 freshman Steve Djurickovic, Bosko's son, to emerge as one of the league's young stars. Carthage seems to be one good recruiting class of big guys away from being back in the CCIW title picture.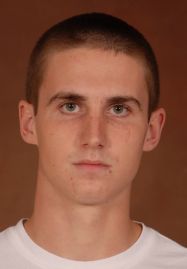 Steve Djurickovic
-----
Elmhurst
2006-07 record: 21-6 overall, 10-4 CCIW (2nd)
Starters lost: Nick Michael (12.6 ppg, 6.7 rpg), Brian Lee (11.9 ppg, 3.0 rpg), Mike Sayre (3.7 ppg, 2.5 rpg)
Starters returning: Ryan Burks (17.4 ppg, 3.3 rpg), Brent Ruch (13.4 ppg, 7.6 rpg)
Impact newcomers: Marco Macias (6-3/180, Fr, G), Jimmy Saris (5-9/155, Fr, PG)
Projected Starting Lineup (by CCIW time):
G Chris Childs (6-2/170, So) or Mitchell Blair (6-1/175, So)
G Matt Ryder (6-0/190, So) or Dustin Bainter (6-2/175, So)
F Ryan Burks (6-4/185, Jr)
F Robert Strzemp (6-3/225, Jr) or Jared Hintzsche (6-8/210, Sr)
C Brent Ruch (6-9/255, Jr)
Notes:
The Bluejays probably have the CCIW's best 1-2 punch, with preseason All-American junior center Brent Ruch (6-9/255) and junior wing Ryan Burks, who averaged 17.4 points per game last season. The two returning All-CCIW players will give Elmhurst an inside/outside combination that's awfully hard to stop. The Bluejays do have a lot of questions, however. Both guard spots are still up in the air and will be filled by new starters. The power forward spot is not set in stone -- junior Robert Strzemp, back after missing last season due to injury, will compete there. Look for freshman Marco Macias, who turned down a scholarship to Division II Winona State, to be getting a lot of time at the 3 by January...he should be a great CCIW player someday. All things considered, Elmhurst looks like a safe bet for the league's #2 slot in the preseason and can win the league if the role players at the 1, 2, and 4 have good years.
-----
Illinios Wesleyan
2006-07 record: 11-14 overall, 4-10 CCIW (7th)
Starters lost: Zach Freeman (21.6 ppg, 9.1 rpg), Andrew Freeman (11.0 ppg, 5.9 rpg), Mike Harrigan (6.6 ppg, 2.6 rpg)
Starters returning: Andrew Gilmore (11.4 ppg, 2.5 rpg), Darius Gant (9.8 ppg, 5.3 rpg)
Impact newcomers: Travis Rosenkranz (6-0/175, Fr), Duncan Lawson (6-8/225, Fr), Doug Sexauer (6-7/210, Fr), Edmond O'Callaghan (6-7, 210 Fr), Sean Johnson (6-1/175, Fr), Matt Schick (6-4/190, Fr), Josh Sutton (6-5/205, Fr), Robert Beauchamp (6-1/195, Jr - transfer from Parkland CC)
Projected Starting Lineup (by CCIW time):
G Travis Rosenkranz (6-0/175, Fr)
G Andrew Gilmore (6-3/185, Jr)
F Matt Schick (6-4/190, Fr)
F Darius Gant (6-4/210, Sr)
C Brett Chamernik (6-5/230, Jr)
-----
Millikin
2006-07 record: 9-16 overall, 2-12 CCIW (8th)
Starters lost: Drew Gensler (16.5 ppg, 3.2 rpg), Vincent Brock (7.2 ppg, 2.3 rpg), Mike Gavic (10.1 ppg, 4.7 rpg), Korte Long (7.6 ppg, 5.3 rpg)
Starters returning: Joscar Demby (6.9 ppg, 2.8 rpg)
Projected Starting Lineup (by CCIW time):
G Keanon Harrington (6-0, Sr)
G Charles Warren (6-2, So)
F Robert Rexroade (6-8, So)
F Zach Ott (6-7, So)
F Joscar Demby (6-7, So)
Notes:
A new era of Big Blue basketball begins this season as Marc Smith takes over as head coach. A native of Springfield and a former Millikin assistant, Smith is fresh off a 5-year stint as head coach at Keystone College (Pa.), where his teams went 88-50 (.638). Smith inherits 3 very good sophomore big men in 6-7 Joscar Demby (6.9 ppg, 2.8 rpg), 6-7 Zach Ott (7.9 ppg, 2.4 rpg), and 6-8 Robert Rexroade (6.0 ppg, 2.8 rpg). 6-7 freshman Darrell Adams (Elizabethtown, N.C.) provides even more depth in the Big blue frontcourt. In the backcourt, junior Keanon Harrington returns after playing in 24 games in 2006-07 (3.8 ppg, 3.1 rpg). 6-2 sophomore Charles Warren (4.3 ppg) is probably the other favorite to start at guard. Junior John Harmsen was Millikin's JV MVP last year and is expected to be a key contributor. 6-2 junior transfer Tunde Ogunleye followed Marc Smith from Keystone and should play. The biggest story for Millikin is the apparent departure of all-CCIW guard Drew Gensler (16.5 ppg, 3.2 rpg, 2.6 apg). In the off-season, he announced his intentions to transfer to Division I Boise State, where he planned to play basketball after sitting out a year per D1 transfer rules. Word now is that Gensler is back at Millikin, but not playing basketball. Keep an eye on that situation, as Gensler would certainly make a big impact in the CCIW as a junior
-----
North Central
2006-07 record: 16-10 overall, 8-6 CCIW (4th)
Starters lost: Dan Walton (17.8 ppg, 9.2 rpg), Anthony Simmons (15.1 ppg, 6.3 rpg), Adam Krumtinger (8.9 ppg, 6.5 rpg), Raymond Lawrence (5.0 ppg, 1.5 rpg), Bob Valker (1.5 ppg, 1.6 rpg)
Starters returning: none
Impact newcomers: Matt Rogers (6-4, Jr - transfer from D3 Lakeland, 18.5 ppg), Jeremy Williams (6-6, Jr - transfer from D2 Nebraska-Omaha, 4.7 ppg, 4.1 rpg in 20 min/game)
Projected Starting Lineup (by CCIW time):
G Dean Prince (6-0, Jr)
G Reid Barringer (6-0, So)
F Matt Rogers (6-4, Jr)
F Chris Drennan (6-5, Jr)
C Jeremy Williams (6-6, Jr)
Notes:
After losing 6 players who started at some point last season - five seniors and promising freshman guard Brandon Smith (12.9 ppg), North Central will have a completely new look this year. The Cardinals expect 6-4 forward Matt Rogers, a junior transfer from Division III Lakeland (18.5 ppg), to carry a lot of the offensive load this season. Rogers should start at the 3 and is a good bet to be NCC's leading scorer in 2007-08. 6-5 junior forward Chris Drennan has been waiting his turn in the post behind the likes of Daniel Walton, Anthony Simmons, and Adam Krumtinger. In 23 minutes per game last year, Drennan average 6.1 points and 3.1 rebounds (as a freshman he played 20 minutes a game, averaging 7.4 points and 3.2 rebounds) -- the Normal Community product should be a solid starter for the Cards. The third starting frontcourt spot will probably be manned by another transfer -- 6-6 junior Jeremy Williams (Nebraska-Omaha, 4.7 ppg, 4.1 rpg). The new North Central backcourt will be led by 6-0 junior point-guard Dean Prince and 6-0 sophomore Reid Barringer, a 2006 IBCA Class AA 4th team all-stater from Sycamore. Off the bench, look for 6-3 Mitch Raridon, 6-3 David Twyman, 6-3 Dan Schact, and 6-5 Josh Corso to be key contributors. Todd Raridon is 53-26 (.670) in 3 years as the head coach at North Central, leading the Cardinals to the most successful 3-year run in school history. Expect NCC to be a dangerous team by conference time, but most likely the preseason coaches poll has it right - this rebuilding club looks like a bottom half finisher in the ultra-competitive CCIW.
-----
North Park
2006-07 record: 13-12 overall, 5-9 CCIW (6th)
Starters lost: Anthony Lenoir (10.7 ppg, 6.8 rpg), Stephano Jones (7.9 ppg, 3.8 rpg)
Starters returning: Jason Gordon (9.3 ppg, 3.4 rpg), Joe Capalbo (8.6 ppg), Jay Alexander (7.9 ppg, 3.5 rpg)
Impact newcomers: Bruce Durham (5-10/180, Fr.), Jorge Gonzalez (6-5/210, So.) - transfer from Lincoln College, Jon Chimino (6-6/215, Jr.) - transfer from Moraine Valley College, Phil Schniedermeier (6-7/230, Fr.), Christian Alsing (6-7/210, Fr.)
Projected starting lineup (by CCIW time):
G Bruce Durham (5-10/180, Fr.)
G Antonio Stevens (6-3/189, So.)
G Jason Gordon (6-3/205, Sr.)
F Nick Williams (6-5/205, So.)
C Mike Ventura (6-7/210, Jr.)
North Park head coach Paul Brenegan will look to use the athleticism, perimeter shooting ability, and depth of the Vikings to continue last season's upswing. Nick Williams, who led the Vikings with 10.9 ppg while coming off the bench as a freshman, is poised to have a breakout season as a sophomore. He and fellow second-year player Joe Capalbo are the CCIW's top two returning three-point percentage leaders. Talented senior Jason Gordon will seek to reach the full potential of what has been an injury-plagued career to date, while sophomore guard Antonio Stevens is the team's best defender and penetrator. Team captain Jay Alexander (6-5/185) adds experience and athleticism at both forward spots, where a pair of shooting specialists, junior transfer Jon Chimino and freshman Christian Alsing, add depth. The questions for the Vikings surround the center and point guard spots; the latter will be manned by the tandem of freshman Bruce Durham (a fourth-team IBCA All-Stater last year for Lockport ) and sophomores Chris Brown and Dan Oziminski, while the former will be a committee effort led by junior defensive stopper Mike Ventura, athletic sophomore transfer Jorge Gonzalez, and powerful freshman Phil Schniedermeier (Loyola Academy), with 6-7/220 sophomore Glenn Woodside a possibility to see some time in the low post as well. The Vikings may be one year away from being a true title contender, but they look talented enough to make a run this season.
-----
Wheaton
2006-07 record: 17-9 overall, 9-5 CCIW (3rd)
Starters lost: Michael Fiddler (8.5 ppg, 4.8 rpg), Johnnie Standard (10.9 ppg, 5.7 rpg)
Starters returning: Kent Raymond (22.4 ppg, 4.0 rpg, 3.7 apg), Andy Wiele (8.0 ppg, 6.1rpg), Ben Panner (9.1 ppg, 3.0 rpg)
Impact newcomers: Jacob Carwell (6-7/205, So - transfer from Benedictine), Andrew Jahns (6-2/180, Fr), Josh Kvam (6-0/175, Fr)
Projected Starting Lineup (by CCIW time):
G Kent Raymond (6-3/195, Jr)
G Ben Panner (6-3/175, So)
F Steve Young (6-3/195, So)
F Jacob Carwell (6-7/205, So)
C Andy Wiele (6-8/230, Jr)
Notes:
There is a very good chance that 6-3 guard Kent Raymond is the best player in Division III. In 2006-07, after a year away from basketball, Raymond averaged 22.4 points, 4.0 rebounds, and 3.7 assists. He shot .462 from the field and .398 from 3-point range. Raymond shot 187 free throws, making 164 (.877), in 23 games. To put that free throw total in perspective, Augustana's Drew Carstens shot 156 in 25 games in 2003-04 and IWU's Korey Coon had 163 attempts in 1999-00 (also 25 games) - Raymond averaged more attempts per game than both profilic CCIW free throw shooting guards. Raymond set a Shirk Center scoring record on February 9, lighting up Illinois Wesleyan for 44 points, including a 20 of 20 free throw performance. Surrounding Raymond is a lot of talent. Backcourt mate Ben Panner returns and seems poised for a breakout year. 6-8/230 Andy Wiele loves to step out and shoot the 3 and is a tough matchup. 6-7/230 transfer Jacob Carlwell (Benedictine) is a good low post defender and good rebounder -- he should give Wheaton much needed toughness in the paint. 6-3 forward Steve Young, a heady and fundamentally sound player, has graduated from the JV ranks and may get the starting nod at the 3. Wheaton expects good things out of freshman guard Andrew Jahns, but he is still recovering from off-season knee surgery. With Wheaton, the questions are really all about the supporting cast, but it seems like the talent is there. If 2 or 3 other players emerge to provide consistent offensive support, the Thunder will be right in the middle of the CCIW title picture.
---
Bob Quillman's Preseason All-CCIW Team
Ryan Burks (F), Elmhurst (6-4/185, Jr)
Kent Raymond (G), Wheaton (6-3/195, Jr)
Brent Ruch (C), Elmhurst (6-9/255, Jr)
Dain Swetalla (F), Augustana (6-9/240, Sr)
Nick Williams (F), North Park (6-5/205, So)
---
Final Thoughts
---
With all of the uncertaintly surrounding the 2007-08 Illinois Wesleyan season, I almost felt funny asking Ron Rose my stardard final Preview interview question -- "So what are the keys to the season?" His "where do I start?" reaction to the question and smile kind of said it all. I spared him from a detailed X's and O's type answer and just asked for "big picture" topics. He humored me.
"The first thing is realizing the level of play and at what level of urgency and intensity that you have to play every night out to be competitive," he said. "That's the starting point."
Second, Rose pointed to role definition. "Roles will not be established right away, but we need to develop them throughout the non-conference season," he said.
Generating consistency is another key identified by the head coach of the Titans. "We need to develop a consistency this year," he explained. "Last year we knew Zach was going to get 20 (points) and 10 (rebounds), but after that we didn't know what to expect. This year we need to have more answers than that on a nightly basis."
Finally, Rose said his team needs to make progress throughout the season. "There will be some bumps in the road and a lot of lessons learned when you have inexperienced and young guys playing," he said. "It may not always be pretty, but what we will be looking at is how competitive are we, and are we making progress."
This promises to be an exciting season of Titan basketball. There will be moments when this young cast struggles, and others when it shines. One thing is for sure - there are many more questions than answers right now. That should create plenty of good drama for all of us to follow.
"This really is an exciting time of Titan basketball," said Rose. "Everything is moving in the right direction and, as a coach, it is a fun time tobe a part of this. I know the players are excited too. From a fan's persepctive, I think it is going to be really fun to watch the devopment, so stay tuned."
And stay tuned we will, Coach Rose.
We'll see everyone at the Shirk Center and on the road with the Titans. Best of luck to Ron Rose, his staff, and the 2007-08 Illinois Wesleyan Titans. There is a lot of talent on this team, Titan fans -- maintain the proper perspective and you'll be pleasantly surprised with what you see.
- Bob Quillman (IWU '93)