Scott Trost Era Begins at Illinois Wesleyan
2001-02 Illinois Wesleyan Season Preview, by Bob Quillman - IWUHoops.com
November 1, 2001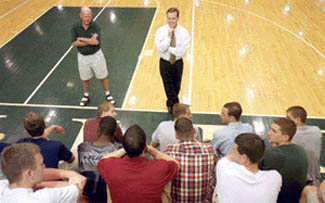 After 36 years at the helm, Dennie Bridges passes the torch to Scott Trost.
---
Season Schedule, Links to All Opponents
The Shirk Center - Home of the Titans
---
Trost Takes Over at IWU
For the past five years, conference games for Scott Trost have consisted of Northwestern, Iowa, Penn State, Minnesota, Ohio State, Purdue, Indiana, Wisconsin, Illinois, and Michigan State. This year he will play his league games against North Central, Millikin, Elmhurst, North Park, Wheaton, Augustana, and Carthage.
After four seasons as Assistant Coach at Michigan in the Big Ten, and one as Associate Head Coach, Trost takes over as head coach of Division III Illinois Wesleyan, a CCIW powerhouse. Trost is not a stranger to the conference, however, having coached Elmhurst College from 1992-93 to 1995-96. His Bluejays were one of two teams to defeat IWU's national 3rd place team during CCIW play in '95-96.
Trost replaces legendary head coach Dennie Bridges, who won 667 games in his 36 year career at Illinois Wesleyan. Bridges led the Titans to 17 CCIW championships, and set a nearly untouchable mark in career CCIW coaching victories - 421. Bridges coached his alma mater to Division III Final Four appearances in 1996, 1997, and 2001, taking home the national championship trophy in '97. In his final season, he guided the Titans back to Salem after starting the CCIW season 6-4. The Titans finished 3rd in the nation, defeating Ohio Northern 76-73 in Bridges' final game.
Trost knows that the big question on everyone's mind in Bloomington is "what will be different?"
"As successful as Wesleyan basketball has been, I'd be crazy to come in and change everything. Keeping the tradition here is very important to me," said Trost. "My goal is to continue what we've been doing well, and improve in the areas we can get better in."
As IWU prepares for the 2001-02 season, one of those areas is defense. "We've spent a lot of time on defense so far in practice, and we will continue to," said Trost. "Rather than giving up 75 points a game, I'd like to stop 'em a few more times."
Trost also wants to see his Titans rebound like they do in the Big Ten. "There are times when you have to get a stop, and get a rebound. If you look at some of the teams that have been successful in the Big Ten in recent years...Michigan State, Wisconsin, Illinois...they are all great defensive and rebounding teams."
Finally, team strength will be an area of emphasis. "I told the guys right when I started that we would lift as a team, and that is what we've been doing...I don't know if anyone will notice a difference this year, but down the road they will," explained Trost. "I believe it helps build mental toughness...Laban (Cross) and Seth (Hubbard) both lifted quite a bit this summer, and both say they feel quite a bit stronger on the court."
"Other than that, the goal is to do everything exactly the same," he said. "We are going to run basically the same exact offense."
When asked where his team should be ranked in the D3Hoops.com Preseason Poll after the Final Four season, Trost didn't know quite what to think. "I've been out of this level for five years now. It's hard for me to compare our talent to others in the CCIW and nation," he said. "I do know we are a good basketball team, with good players...where we deserve to be ranked, I have no idea."
The Titans were picked second in the CCIW coaches poll, behind Carthage. "I've been around this league enough to know that if you're good enough to win the CCIW, you are one of the best teams in the country. Look at last year -- the third place team in the conference (IWU) ended up third in the nation."
---
The Nucleus
Leading the charge for Trost's Titans is a very talented junior class. Trost points to three in particular who he calls "the nucleus" -- Luke Kasten, Laban Cross, and Seth Hubbard.
Luke Kasten (Jr. Power Forward...6'7, 205)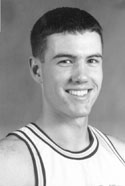 Only one player in Illinois Wesleyan basketball history scored more points after his freshman and sophomore seasons than Luke Kasten's total of 911. That player, Jack Sikma (934 points after his sophomore season), went on to become a 7-time NBA all-star and is regarded as one of the CCIW's all-time greats.
While young Mr. Kasten probably isn't holding out hope of being a lottery pick in the 2003 NBA draft, he does have a chance to become one of IWU's greats. If Kasten matches his 2000-01 point total of 504 during his junior and senior seasons, he would finish with 1919 points. This would be good for number 3 on the Titan's career scoring list -- behind only Sikma's 2272 (1973-77) and Blaise Bugajski's 2062 (1979-84). Kasten is the first IWU player ever to score 400 or more points in each of his two first seasons.
Top Fresh-Soph Scorers at IWU
1. Jack Sikma 934 pts ('74-75)
2. Luke Kasten 911 pts ('00-01)
3. Greg Yess 847 pts ('78-80)
4. Blaise Bugajski 751 pts ('80-81)
5. Korey Coon 720 pts ('97-98)
(statistics courtesy of Stew Salowitz)
Luke was named to the the first team of the CCIW's all-conference squad in 2001, and also earned first team honors on the National Association of Basketball Coaches' all-Midwest region squad. He was named to the 5-man all tournament team at the 2001 NCAA Division 3 Final Four, in Salem, Virginia. This week he was tabbed a preseason 3rd team All-American by D3Hoops.com.
"Some of the personal accomplishments are nice, but I haven't been part of a CCIW championship yet," said Kasten. "My number one goal this season is to win the league...we are all completely focused on that right now."
"Skilled. That is the word I would use to describe Luke," said Trost. "He can shoot the 3, play the post, put it on the floor, and he jumps well. He combines a package of talent you don't see a lot at the higher levels." Trost also likes Kasten's competitive spirit. "He hates to lose, and has a chip on his shoulder in a positive way."
Laban Cross (Jr. Shooting Guard...6-2, 180)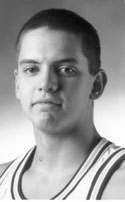 A Titan star was born during Illinois Wesleyan's 2001 playoff run - Laban Cross. In a back-and-forth game on the road at Wartburg he scored 13 points, including 4-6 from 3-point range, and pulled down 7 rebounds. The following weekend the Titans traveled to the University of Chicago for the Midwest Sectional. On Friday March 9, Laban scored 16 points in a victory over CCIW champion Elmhurst 63-60. The next night he scored 22 points against the #1 team in the nation (Chicago), on their homecourt, leading IWU to a 77-68 win, and a trip back to Salem. In the national 3rd place game against Ohio Northern, he tallied 18 points in a Titan win.
"Laban has potential to be one of the best guards in the CCIW...most people have no idea how good a player he is," said Kasten.
Trost thinks his starting 2-guard is a big key to Illinois Wesleyan's season. "After watching tapes over the summer of last season, I told Laban I would count on him to be aggressive this year." From what he has seen so far in practice, Cross is responding. "People tell me Laban used to be very timid and shy. So far this year, I have seen a very confident and aggressive Laban Cross. He has been very vocal...that will help us on the floor," said Trost. "Laban will get his shots."
Seth Hubbard (Jr. Center...6'7, 220)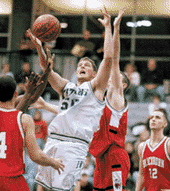 6-7 junior Seth Hubbard has been lost a bit in the shadow of fellow post player Luke Kasten's early success. The 1999 IHSA Class A first team all-stater emerged a bit from that shadow at the Midwest Sectional last season. With Kasten in foul trouble in both games, Hubbard saw significant playing time. He responded by scoring 11 points in the Elmhurst game, and then 16 against Chicago. He was 9-11 from the field on the weekend.
A true center with great post moves, Hubbard will finally get his chance to start for the Titans. "Seth is a fantastic offensive player," said Trost. "You don't see those kind of post moves at this level very often."
Kasten is happy to finally be on the same side of the ball as Hubbard. "For the two years we've been here, Seth and I have always had to be on opposite teams (in practice). I am excited to get to play with him now...Seth has the best back-to-the-basket post moves of anyone I've ever played against."
---
The X Factor
John Camardella (Jr. Small Forward...6'4, 215)

Two months ago a doctor told John Camardella he would not be able to play this season. As the Titans now prepare to start the 2001-02 campaign, the 6-4 junior may be able to play by December 1st.
Shortly after the Titans returned from Salem in March, Camardella contracted a rare condition known as Reactive Arthritis - so rare, in fact, that it went undiagnosed for more than a month. The condition prevented Camardella from having necessary surgery on his knee, to repair cartilage torn in the opening minutes of IWU's playoff victory over Chicago.
In August he finally beat Reactive Arthritis, allowing him to have surgery on September 26. Shortly after surgery, Camardella received more good news - the surgeon could not find any cartilage damage.
Regarded as one of the best athletes in the CCIW, Camardella led the Titans in rebounding last season. He averaged 6.4 per game while playing just under 21 minutes per contest. The explosive leaper was outstanding during the Titan's strong conference finish, including a 15 point, 14 rebound performance in a victory over eventual champion Elmhurst on February 17. In IWU's first round playoff game against Grinnell, Camardella scored a career high 22 points, on 7-8 shooting from the field (3-3 from beyond the arc).
"A 100% healthy John Camardella is a definite starter," said Trost. "He provides a toughness and level of athletic ability we need...John's health is really the 'X-factor' for us right now."
---
Captain McCreery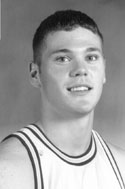 Captaining the 2001-02 Titans is Ryan McCreery (Mason City, Illini Central H.S.). The 6-5, 225 pound senior is Titan's strongest player and looks to be a critical part of the team's success.
"Ryan is a very heady player. He's also a great leader," explained Trost. "He gives us a lot of flexibility, because he can play anywhere from 2 to 5."
McCreery is a candidate to start at the small forward spot until Camardella is healthy, and figures to be one of the first Titans off the bench during the CCIW season.
---
Point Guard Spot up for Grabs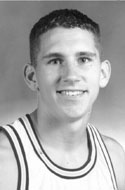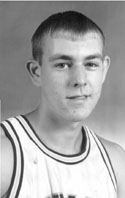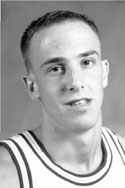 Jim Lehan Sean McGuire Chris Silagi
With a little over two weeks until the season opener, Scott Trost still doesn't know who his starting point guard will be. Junior Chris Silagi (Oswego H.S.) and sophomores Jim Lehan (Dekalb H.S.) and Sean McGuire (Fairbury, Prairie Central H.S.) are the candidates. "They have all looked good at times, but no one has distanced himself," explained Trost. "Each brings something different to the table. Chris is a shooter and scorer...Jim is quick, smart, and probably the best athlete...Sean is a great competitior and also very heady."
Silagi is the all-time leading scorer at Oswego High School, and also holds school records for 3-point field goals made and free throw percentage. McGuire was named to the 2000 IBCA first team all-state team, and led Prairie Central High School to the state tournament in Peoria. Lehan, the valedictorian of his high school class at Dekalb, was a a two year all-Upstate Eight selection.
Trost doesn't seem too concerned with the situation for now. "I don't consider this a problem - I have three good options to choose from."
---
The Rest of the Cast
Eric Starkey figures to be a key player off the bench for the Titans. The 6'3 junior guard is Milford High School's all-time leading scorer. He averaged 26 points a game as a senior. "Starkey looks good right now...he had a great Green-White (scrimmage)," said Trost. "Ulimately I see Eric coming off the bench on this team, but he is a candidate for that starting 3 spot until John (Camardella) gets back."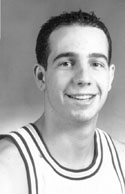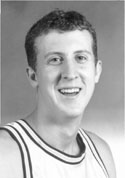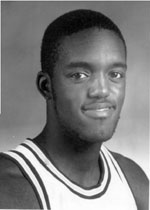 Eric Starkey Marty Eich Jabari Adams
Scott Trost's biggest concern at this point is depth in the post. "We will need consistent production off the bench at the 4 and 5 spots," he explained. "Marty Eich is 6-7, and a good athlete...he is definitely in the mix." Freshman Steve Jeretina is also getting a look right now. "Steve is a big guy (6-6, 220 pounds) and he can jump. He is definitely very raw though."
In addition to Ryan McCreery, freshman John Shafer and sophomore Jabari Adams are also possibilities to get time at the small forward spot. "Both have played well so far," said Trost.
---
College Conference of Illinois & Wisconsin
As usual, the CCIW season will be grueling. Trost knows there is a long road ahead.
"I wasn't surprised by the coaches poll at all...that was almost exactly how I voted," he explained "Carthage is very talented, and they are well coached.." Trost is no stranger to the Redman coaching staff. For two years, Bosko Djurickovic and Tim Bernero were his assistant coaches at Elmhurst. "I learned a lot from Bosko...he is a great teacher for his players."
Luke Kasten is also leary of the CCIW. "This league is amazing. On any given night, anyone can beat you...I've found that out the hard way." He went on to say, "Look at last year...no one talked about Elmhurst doing anything in the beginning of the season, and they came out and won it."
IWU's All-American does see two particular threats, however. "Carthage and Augie are going to be really good I think. We have a spirited rivalry with Carthage...it is fun to play against those guys."
---
Finally...
That is the backdrop in front of which the 92nd season of Illinois Wesleyan basketball will unfold. When asked for one key to the season, Luke Kasten quickly responded with an intangible. "Chemistry. Everyone has to find and accept their roles."
"Plus," Kasten smiled and added, "a little luck never hurts."
---
The Titans Tip Off the 2001-02 Season on November 17 at the Ripon Tip-Off Tournament.