'Burden of Expectations' OK with Illinois Wesleyan
Trost, Titans Ready to Make Another CCIW Run
The 2004-05 Season Preview
November 3, 2004
---
---

Special thanks to BJ Armstrong (IWU '93) for his support of IWUHoops.com!
---
BLOOMINGTON, IL. -- When I sat down with Illinois Wesleyan head coach Scott Trost a year ago for the 2003-04 Preview piece, a lot of big question marks surrounded the Illinois Wesleyan basketball team. Trost's club was preparing to go into battle with four new starters, including three players up from the junior varsity squad (Keelan Amelianovich, Cory Jones, Steve Schweer) and a freshman (Zach Freeman). Due to all of the uncertainty, the Titans were picked to finish 5th in the CCIW Preseason Coaches Poll.
By the time the '03-04 campaign was over, the question marks were erased and the uncertainty disappeared. The sophomore-dominated Titans, behind the leadership of senior captain Jim Lehan, won the school's 26th CCIW championship with a 12-2 conference mark. In the NCAA Division III playoffs, IWU defeated Maryville (Mo.) in Round 1 in advance of a thrilling Round 2 victory over then #2 ranked Hanover College, on the Panther's floor. Illinois Wesleyan bowed out of the tournament with a tough loss at the College of Wooster in the round of 16. When the dust settled, the Titans had posted a 21-7 record and found themselves ranked 11th in the final D3hoops.com poll.
Based on last year's success and the fact that four of five starters, and seven members of the eight-person rotation, are back, Scott Trost now finds his team ranked #2 in the country by D3hoops.com and Street & Smith's magazine. The Titans are expected to be a unanimous selection as the CCIW favorite when the CCIW Preseason Coaches Poll is released.
So are things different in the early going this year? Trost doesn't seem to think so.
"Last year we had big expectations within our program, just as we do this year," said Trost. "Our goal then was to win a CCIW championship, just as it is this year, so to that extent nothing has really changed internally."
Trost concedes that all of the preseason attention being given to his club has the potential to have an impact on the season. "We are going to have a huge bullseye on our back, there's no doubt about that," said Trost. "I am not worried about that though. I think the character of this team and our leadership won't allow this to negatively affect us."
Junior Adam Dauksas, a two-year starter at point-guard, seems to agree. "Coach talks to us about 'burden of expectations' all of the time," said Dauksas. "You know, the expectations are not the problem - it is what you do with those expectations. This group of guys can handle it."
Returning CCIW Most Outstanding Player Keelan Amelianovich also seems comfortable with IWU's position heading into the season. "We're not going to sneak up on anybody…that's for sure," he said. "But we have now been through enough big battles to know just how hard we are going to have to play every night out. We are ready for this."
Cory Jones to Miss Non-Conference Season
Heading into the 2004-05 campaign, the Titans' biggest question mark is at the center position. Cory Jones is sidelined for up to eight weeks with a stress fracture in his right foot. Head coach Scott Trost hopes to have him back for the January 8 CCIW opener versus Elmhurst.
Trost seems very comfortable with Cory's replacement -- identical twin brother Chris. "Chris is physically and athletically ready to start…he just needs some game experience," said Trost.
Trost is also quick to point out that Chris played a very important role on last year's CCIW title team. "Last season when we lost Chris (to injury) we were not as good of a basketball team," he said. "When we got him back is when we made our run." The Titans went 2-2 (0-2 on the road) in the CCIW without Chris in the lineup and 10-0 (5-0 on the road) with him.
Chris had a great game at Augustana on February 12, with 8 points on 3-4 shooting from the field and 4 rebounds in 13 minutes of play. His best overall game of the 2003-04 season was at home on February 25, in a win versus North Central. In 14 minutes of action, he was 7-10 from the field, scoring 16 points and pulling down 5 rebounds.
"I think offensively Chris is very close to Cory," added Trost. "He just needs to rebound and defend like Cory."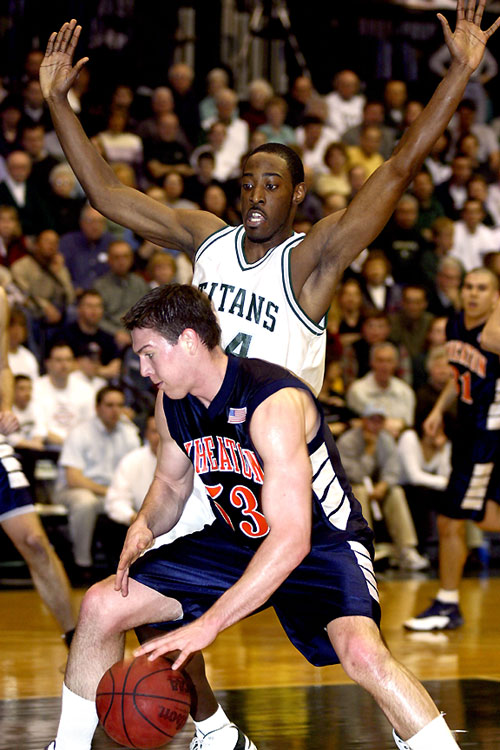 Chris Jones, guarding Wheaton All-American Joel Kolmodin last season
2004-05 Preview
In this piece every year, I try to lay out the season as best as I can. We'll start with the projected Titan starters, discuss the bench, the return of the JV program, preview the non-conference games, and then get into the College Conference of Illinois & Wisconsin.
Enjoy!
---
G - Adam Dauksas (6-3/185 Jr., Homewood-Flossmoor H.S.)

2003-04 Stats:
| | | | | | | |
| --- | --- | --- | --- | --- | --- | --- |
| GP/GS | Points/Game | Rebounds/Game | FG/FGA | 3-pt FG/FGA | FT/FTA | Assists/Game |
| 28-28 | 13.8 | 3.6 | 116/295 (.393) | 45-109 (.413) | 110-137 (.803) | 5.4 |
2003-04 Honors:
Profile:
Dauksas, one of IWU's 3 captains (Keelan Amelianovich, Cory Jones), is as good of a ball-handler and floor general as you will find at the Division III level. He sees the court extremely well and knows where and when to get the ball to his teammates. With a unique flare to his game, Dauksas is a Shirk Center fan favorite . He is a tremendous competitor and a winner - Dauksas has been the starting point-guard on back-to-back CCIW championship teams. His biggest asset may be his passion for the game - every minute he's on the floor you realize just how much he loves to play basketball.
His 150 assists in 2003-04 was the third highest single-season total in Illinois Wesleyan history. Don't be surprised if Dauksas makes a serious run at Chad Hutson's all-time school record of 198 (1994-95). He has a legitimate chance to be one of the best point-guards in the country the next two seasons.
Scott Trost Comments:
"I think Adam is the best point-guard in the CCIW, and maybe the country....He is a great leader and extension of the coaching staff on on the floor...I am very hard on Adam because I expect a lot from him, but we are always on the same page."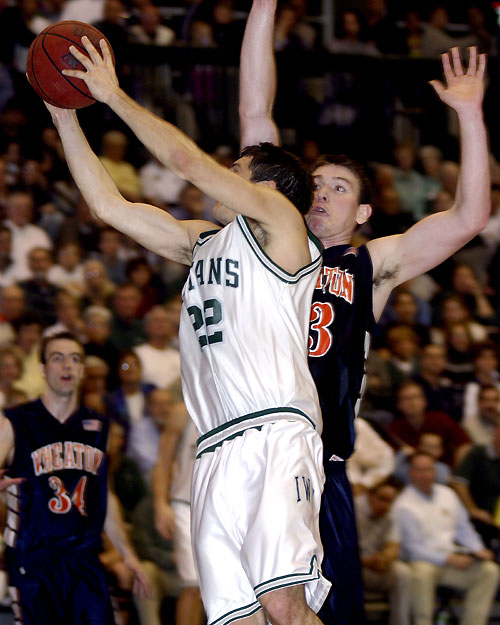 ----------
G - Jason Fisher (6-2/206 Jr., Delavan H.S.)

2003-04 Stats:
| | | | | | | |
| --- | --- | --- | --- | --- | --- | --- |
| GP/GS | Points/Game | Rebounds/Game | FG/FGA | 3-pt FG/FGA | FT/FTA | Assists/Game |
| 28-0 | 5.7 | 1.2 | 54/115 (.470) | 33-58 (.569) | 18-24 (.750) | 0.9 |
Profile:
A former IHSA Class A all-stater and the state's Slam Dunk Champion in 2002, Jason Fisher was a very solid 6th man for the Titans last season as a sophomore. He came into games firing, and on the season connected on an impressive 57% of his 3-point attempts.
Fisher will be asked to take on a much more significant role in 2004-05 as a starter. With opposing teams keying on Keelan Amelianovich and having to double IWU's post duo of Zach Freeman and Cory Jones, Fisher is going to find himself open on the perimeter quite a bit. If he can knock down 50%+ of his 3's again, the Titans will be a very hard team to defend. Fisher, probably the most athletic Titan, will need to rebound and defend tenaciously.
Scott Trost Comments:
"Jason is extremely talented and maybe our most athletic player...He shot 56% from 3 last year, but this year we will ask him to be more than just a shooter...Jason will have to defend and also create for his teammates...He has to replace Jimmy Lehan, who meant more to our team last year than most people realize."
----------
F - Keelan Amelianovich (6-6/215 Jr., Neuqua Valley H.S.)

2003-04 Stats:
| | | | | | | |
| --- | --- | --- | --- | --- | --- | --- |
| GP/GS | Points/Game | Rebounds/Game | FG/FGA | 3-pt FG/FGA | FT/FTA | Assists/Game |
| 28-28 | 17.9 | 5.1 | 174/340 (.512) | 82-162 (.506) | 72-87 (.828) | 0.9 |
2003-04 Honors:
CCIW Fred Young Most Outstanding Player
NABC 1st Team All-American
NABC Midwest Region Player of the Year
D3HOOPS.com 2nd Team All-American
Profile:
Drawing comparisons to former Titan All-American Bryan Crabtree ('97) since the day he committed to play for Illinois Wesleyan, Amelianovich didn't do anything to stop that kind of talk last season. He became the first Titan sophomore since Jack Sikma to win the CCIW "Most Outstanding Player" award, averaging 17.9 points and 5.1 rebounds per game. Amelianovich's 82 3-pointers made was the highest single-season total in school history. His 51% accuracy from beyond the arc was second best in the country.
At 6-6/210, team captain Amelianovich is very big and strong for a Division III perimeter player. He presents match-up problems for many defenders and opposing teams are usually forced to use multiple players to contain him.
Amelianovich scored 49% of his points in 2003-04 via the 3-point shot. With all of the attention Amelianovich will get from opposing defenses all season long, look for him to score a bit less from 3-point range and more from the mid-range or off dribble penetration.
If he keeps developing, Amelianovich has a chance to be one the best players ever to wear the green and white.
Scott Trost Comments:
"One of the hardest workers you will ever see...Keelan deserves all the accolades that are coming his way...He shoots the ball as well as anyone I have ever coached at any level...Keelan will be a marked man this year and will have to create for his teammates...He is the consumate team player."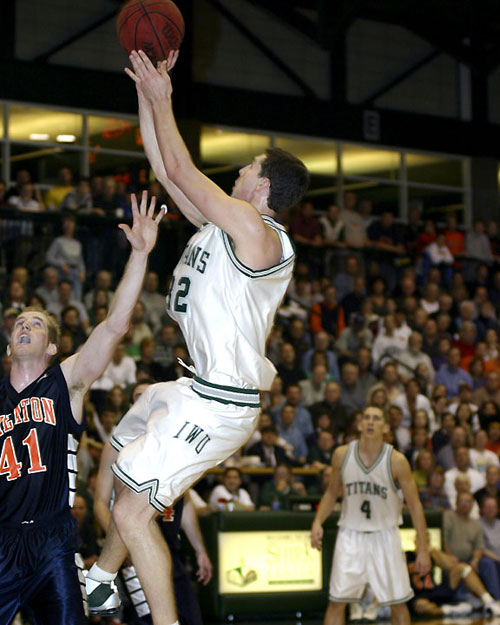 ----------
F - Zach Freeman (6-7/205 So., Normal Community H.S.)

2003-04 Stats:
| | | | | | | |
| --- | --- | --- | --- | --- | --- | --- |
| GP/GS | Points/Game | Rebounds/Game | FG/FGA | 3-pt FG/FGA | FT/FTA | Assists/Game |
| 28-28 | 11.4 | 7.1 | 114/213 (.535) | 3-14 (.214) | 87-119 (.731) | 0.9 |
2003-04 Honors:
Profile:
As a 190-pound freshman, Freeman had an impressive freshman season, averaging 11.4 points and 7.1 rebounds per game. As a 205-pound sophomore, look for even bigger things out of Illinois Wesleyan's power forward.
Freeman has good touch around the basket and has a tremendous verticle leap. Whatever the freshman slam-dunk record was at Illinois Wesleyan before last year, it's safe to say Freeman broke it...might have had it locked up by late December. Freeman can score away from the hoop too, with nice touch up to about 18 feet.
An off-season weight regiment has the left-handed Freeman looking noticably stronger. 15 points and 10 rebounds per game is not out of the question for the sophomore.
Scott Trost Comments:
"I think Zach has potential to be one of the best players in the CCIW this year...he is much stronger, with a bench-press up from 190 pounds to 260, and overall much improved...Zach is an incredible jumper with very good touch...as his post moves continue to get better he will become harder and harder to stop."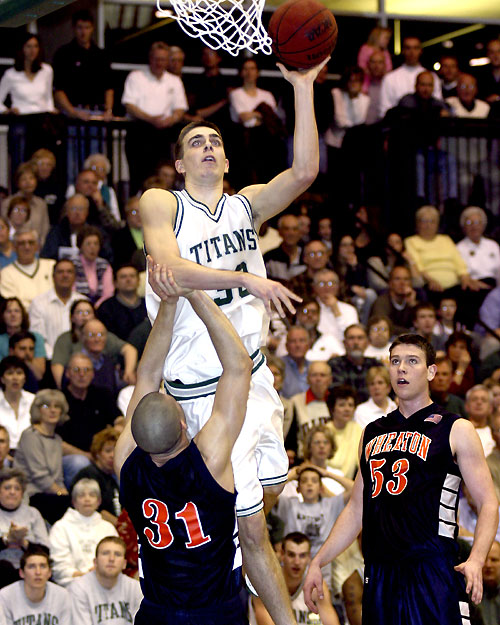 ----------
C - Cory Jones (6-6/225 Jr., Thornwood H.S.)

2003-04 Stats:
| | | | | | | |
| --- | --- | --- | --- | --- | --- | --- |
| GP/GS | Points/Game | Rebounds/Game | FG/FGA | 3-pt FG/FGA | FT/FTA | Assists/Game |
| 28-28 | 10.4 | 6.0 | 112/219 (.557) | 1-1 (1.000) | 47-67 (.701) | 1.0 |
Profile:
The Titans hope to get captain Cory Jones back from injury sometime before the conference season starts. Jones was a big part of Illinois Wesleyan's 2004 CCIW title, averaging 11.5 points and 5.3 rebounds in conference play. He is a strong player who uses his body and feet very well in the post. He also possesses a soft touch around the basket. Jones is a good jump shooter out to about 15 feet, and also seems comfortable taking big shots.
In the off-season, Cory added 15 pounds of muscle and should be quite a physical presence down low for the Titans when he returns. Until that time, his identical twin brother, Chris, will be asked to hold the fort down.
Scott Trost Comments:
"Co Jo is incredibly strong...he is one of our team leaders and a very important part of our championshp hopes...we won't necessarily be in trouble without him, but with him I think we can play with anyone in the country."
---
Scott Trost has some tough decisions to make in rounding out his rotation. Below is a list of the seven candidates for playing time off the Titan bench. It's clear Trost hasn't made up his mind at many of the spots, but during the non-conference season (while Chris Jones is starting) I'd look for the following five to get time. As the conference season draws near, I think it's fair to say Trost will look to narrow the rotation down to a solid eight or nine at most.
Steve Schweer
Mike McGraw
Andew Freeman
Matt Arnold
Steve Jeretina







(L-R: Steve Schweer, Chris Jones, Mike McGraw, Andrew Freeman, Matt Arnold, Steve Jeretina, Tyler Smith)
| | | | | | |
| --- | --- | --- | --- | --- | --- |
| Name | Pos. | Year | Ht/Wt | High School | Comments |
| Steve Schweer | F | Jr. | 6-6/205 | Hinsdale Central | Can play the 3, 4 or 5...a versatile and very hard-working player...provides instant energy off the bench. |
| Chris Jones | F/C | Jr. | 6-6/210 | Thornwood | Will start at center until his brother Cory returns from injury...a big, strong post player who is one of the teams best rebounders...probably more suited for the 4 than the 5 he will be asked to start at early on. |
| Mike McGraw | G | Jr. | 6-3/176 | Litchfield | Was a deadly 3-point shooter in high school...will be asked to come into games and fire from long distance, extending defenses...very smart player...very hard worker...should platoon with Jason Fisher. |
| Andrew Freeman | F | So. | 6-6/200 | Normal Community | Look for him to have a big season...much more of a face-the-basket player than his twin brother Zach...long and athletic...a good shooter and rebounder. |
| Matt Arnold | G | Jr. | 5-11/160 | Edgewood (Ind.) | A very solid backup point-guard...excellent 3-point shooter...very steady ball-handler. |
| Steve Jeretina | C | Sr. | 6-7/230 | Buffalo Grove | Big and strong post player...may play an important role this season with the injury to Cory Jones...can score around the basket. |
| Tyler Smith | F | So. | 6-5/190 | Tolono Unity | A first team IBCA all-stater in 2003...a very talented player at a position the Titans are very deep at...in a battle for playing time to back-up Amelianovich. |
---
Overshadowed by all of the returning talent is the fact that Illinois Wesleyan has a great freshman class. The class is led by four heavily recruited players:
Kevin Bryant, G (6-2/190, Batavia H.S.)
Darius Gant, G/F (6-4/200 Oswego H.S.)
Stephen Manus, F (6-4/190, Forreston H.S.)
Brian Nussbuam, F (6-6/200, Homewood-Flossmoor H.S.)
Shooting-guard John Caywood (6-3/170, Normal Community H.S.) is the sleeper of the class. Don't be surprised if he ends up being a good player at Illinois Wesleyan.
Look for sophomore Tyler Smith (if he does not make the varsity rotation) to join these five freshman to comprise a very strong 2004-05 Titan JV nucleus.
---
| | | |
| --- | --- | --- |
| Date | Opponent | Comments |
| Nov. 19 | Aurora | Season opener...the Spartans are always in the mix for the NIIC title. |
| Nov. 20 | DePauw or Randolph-Macon | Two great D3 programs...RMC is rated #23 in the preseason. DePauw would be an "in-region" game, as Greencastle is within 200 miles. |
| Nov. 23 | Wash U | Another great program...19-6 last year...picked 2nd in UAA behind national #5 Rochester |
| Nov. 30 | @ Olivet Nazarene | A very rare sub-.500 season for Ralph Hodges' team last year (15-16)...the Tigers should be much improved and McHie Arena is always a tough venue for visitors. |
| Dec. 4 | U. of Chicago | The Maroons struggled in their first post-Derek Reich season, finishing 12-13. |
| Dec. 8 | Fontbonne | Perennial SLIAC contender. |
| Dec. 11 | @ Hanover | National #2 vs #3...maybe the best Division III non-conference game in the country. |
| Dec. 18 | @ Beloit | The Bucs return All-American Josh Hinz, who averaged 25.3 points and 9.3 rebounds last year. |
| Dec. 29 | Trinity (Tx) | Another premier D3 non-conference game...#2 vs #14. Pat Cunningham's team returns just about everyone from their 24-5 team last year that defeated IWU. |
| Dec. 30 | @ Southwestern (Tx) | Nine letterman, including leading scorer Aaron Bowser, return from a 17-10, 9-5 SCAC team. |
| Jan. 2 | @ Benedictine | 20-8 last year...knocked out of tournament by eventual champion UW-Stevens Point. |
---
This season Illinois Wesleyan goes after its third consecutive CCIW championship...something IWU has not accomplished since Jack Sikma was in uniform (1975, 1976, 1977). The last CCIW team to pull off a 3-peat was the great North Park group of 1978-1980, which also won three consecutive national championships.
1976-77 IWU Titans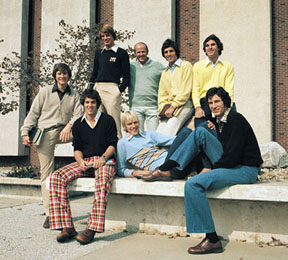 Front, L to R: Dave Pitelka, Mike Rinker, Jack Sikma, John Lenehan
Back, L to R: Bob Spear, Coach Dennie Bridges, Jim Molinari, Mike Bradley
CCIW Capsules:
Augustana
2003-04 Record: 16-9 overall, 10-4 CCIW
Key losses: Drew Carstens (19.0 pts, 2.6 reb), Shaun Clements (11.5 pts, 5.0 reb), Jim Thomas (6.3 pts, 2.7 reb, 3.5 asts), Bill Goehrke (5.3 pts, 6.7 reb)
Projected 2004-05 Starters:
G - Drew Wessels (6-0/160, So)
G - Rick Harrigan (6-3/210, Jr)
G - Joe Baumann (6-3/195, Sr)
F - Jay McAdams-Thorton (6-3/210, Jr)
C - Travis Hoyt (6-6/200, Sr)
Comments:
Grey Giovanine's squad lost a very deep and talented senior class to graduation. With the departure of All-American Drew Carstens & Co., the Vikings have big voids to fill in production and leadership.
Steady two-year starter Joe Baumann should have a solid senior season. Look for Rick Harrigan to emerge as one of the deadliest 3-point shooters in the CCIW and a consistent double-digit scoring threat. Jay McAdams-Thorton should have an all-conference junior season and point-guard Drew Wessels will surprise people.
Carthage
2003-04 Record: 15-10 overall, 7-7 CCIW
Key losses: Theo Powell (18.0 pts, 8.2 reb)
Projected 2004-05 Starters:
G - Trey Bowens (6-1/165, Fr)
G - Malik Imani (6-2/210, Fr.)
F - Mark Morrison (6-6/230, Jr)
F - Kevin Menard (6-6/205, Sr)
C - Brian Schlemm (6-7/240 So)
Comments:
The Redmen finished 7-7 in their first CCIW season after the departure of Antoine McDaniel and Rob Garnes. Their rebuilding effort will continue without CCIW premier big man Theo Powell, who graduated last spring.
Former Marquette Eagle Kevin Menard (16.7 pts, 4.8 reb), a 6-6 face-the basket player, should have a huge year. Head coach Bosko Djurickovic has big hopes for freshman Trey Bowens saying, "…he has potential to be as good as Antoine McDaniel when Antoine was a freshman." Look for 6-6 3-point shooter Mark Morrison to rebound from his sophomore slump and for 6-7/240 Air Force transfer Brian Schlemm to emerge as a starter in the post. 29 year-old freshman Malik Imani, uncle of NBA player Caron Butler, has a chance to start.
Elmhurst
2003-04 Record: 11-14 overall, 3-11 CCIW
Key losses: Wayne Bosworth (11.0 pts, 2.7 reb), Gabe Kirstein (9.0 points, 3.0 reb), Rueben Slock (9.7 pts, 3.8 reb)
Projected 2004-05 Starters:
G - Craig Schau (6-1/190, Sr)
G - David Gershenzon (6-2/180, Jr)
F - Chris Martin (6-6/205, Jr)
F - Adam Abdul-Haqq (6-4/220, Sr)
F - Patrick Trierweiler (6-8/240, Sr)
Comments:
The 'jays couldn't seem to put it together last season, finishing 3-11 in the CCIW, despite a lot of individual talent on the roster. Most of that cast is back, led by 6-6 G/F Chris Martin (19.4 pts, 9.8 reb, 4.1 asts), who has a chance to be an All-American the next two years. Martin played three different positions last season for coach Mark Scherer - both guard spots and the small forward.
Sophomore Nick Michael grew two inches over the summer and put on muscle - he is now an impressive 6-10/220. Although he was primarily used away from the basket last season, his time should come in the post in 2004-05. Elmhurst should also benefit from the addition of UW-Oshkosh transfer David Gershenzon, a very athletic perimeter player who starred at Glenbrook South H.S..
Millikin
2003-04 Record: 14-11 overall, 6-8 CCIW
Key losses: Kevin Causley (8.8 pts, 7.9 reb), Phil Schneider (6.6, 4.4 reb), Rob Klemm (5.0 pts, 3.0 reb)
Projected 2004-05 Starters:
G - Carlon Butler (6-2 Sr)
G - Jason Fisher (6-2 Sr)
F - Chuck Williams (6-0 Sr)
F- Quentin Howard (6-5 Jr)
F - Korte Long (6-5 So)
Comments:
Tim Littrell's squad improved from 2-12 in the CCIW in 2003 to 6-8 in 2004. Two 3-year starters return for the Big Blue - Jason Fisher and Chuck Williams. 3-point specialist Williams earned 2nd Team All-CCIW honors in 2003-04.
Look for a big year fromWaubonsie Community College (Elgin H.S.) transfer Quintin Howard who was a 1st Team Skyway Conference performer last year. Millikin may surprise many by making a serious run at the top half of the league.
North Central
2003-04 Record: 12-12 overall, 5-9 CCIW
Key losses: Kevin Lambert (7.5 pts, 4.4 reb) - graduated, Josh Wesley (8.0 pts, 3.9 reb) - transferred to UW-Plattevile, Monte Williams (7.4 pts, 4.4 reb) - left program
Projected 2004-05 Starters:
G - Adam Teising (5-11/160, Jr)
G - Mike Wilson (6-4/170, Jr)
F - Patrick Flanagan (6-3/170, Sr)
F - Jeremey Haas (6-4/230, So)
F - Anthony Simmons (6-6/225, So)
Comments:
North Central head coach Benjy Taylor resigned after the 2003-04 season. Former Nebraska Wesleyan skipper Todd Raridon is the new head man in Naperville.
The Cardinals made some noise in the CCIW last season, starting 4-0. They proceeded to lose 9 of their final 10 games however. An injury to star Mike Wilson contributed to the slide. Wilson is back, and he's a legimate all-CCIW 1st Team prospect. The Cards picked up a significant transfer in 6-4/230 Jeremy Haas from Elgin Community College. Haas was a superstar at Mt. Carroll high school, leading his squad to the 2003 Class A state championship game and earning 1st Team all-state honors. Haas, a tight end on the NC football team, is a very talented low post player who should be a big contributer this season. Also look for 6-6/225 Anthony Simmons to have a good junior campaign.
North Park
2003-04 Record: 8-17 overall, 3-11 CCIW
Key losses: Javier Sanchez (11.4 pts, 5.0 reb), Cal Ecker (10.6 pts, 3.6 ast)
Projected 2004-05 Starters:
G - Cory Wilks (5-10/170, So)
G - Lamar Townsend (6-3/185, Sr)
F - Mike Peterson (6-5/185, Jr)
F - Brett Mathisen (6-5/210, Jr)
C - Larry Moore (6-9/240, Sr)
Comments:
Former assistant coach Paul Brenegan takes over this year from Rees Johnson. He'll strive to rebuild an NPU program that has finished last in the CCIW the past two seasons.
North Park returns the best outside and inside scorers from last year's team, Lamar Townsend (13.4 pts) and Brett Mathisen (9.8 pts). They're augmented by the return of muscular center Larry Moore, who sat out last season and whose return allows Mathisen to return to his true position at power forward, and by the addition of a very athletic juco transfer at the wing, Mike Peterson. Look for the Vikings to rely heavily upon two highly-touted freshmen, 6'6 forward Jay Alexander and former Ireland junior national team point guard Isaac Westbrooks, who led his Colorado high school to the state championship and won the MVP award of the state tournament as a junior foreign exchange student.
Wheaton
2003-04 Record: 21-4 overall, 10-4 CCIW
Key losses: Joel Kolmodin (17.3 pts, 9.5 reb), Will Landry (8.2 pts, 7.6 reb)
Projected 2004-05 Starters:
G - Jon Nielson (6-0/185, Sr)
G - Jonathan Steven (6-5/220, Sr)
F - Martin Trimiew (6-3/210, Sr)
F - Michael Fiddler (6-6/190, So)
C - Jim Fortosis (6-8/220, Sr)
Comments:
The Thunder have a huge hole to fill with the graduation of All-American post player Joel Kolmodin (17.3 pts, 9.5 reb). They do have a lot of talent back from their 21-4 team that was left out of the 48-team Division 3 playoff field.
Jon Nielson (11.5 pts, 2.6 reb, 5.2 assists) led the CCIW is assists last season, with 81 total in conference play. Jonathan Steven (13.1 pts, 3.0 reb), the Thunder's very talented 2-guard, has potential to be a dominant CCIW player and versatile Martin Trimiew (13.0 pts, 4.4 reb) will be one of the most athletic players in the league this year.
Bob Quillman's 2005 Preseason All-CCIW Team:
1st Team
Keelan Amelianovich (Illinois Wesleyan)
Adam Dauksas (Illinois Wesleyan)
Chris Martin (Elmhurst)
Kevin Menard (Carthage)
Jonathan Steven (Wheaton)
2nd Team
Zach Freeman (Illinois Wesleyan)
Rick Harrigan (Augustana)
Jon Nielson (Wheaton)
Chuck Williams (Millikin)
Mike Wilson (North Central)
3rd Team
Cory Jones (Illinois Wesleyan)
Jay McAdams-Thorton (Augustana)
Jeremy Haas (North Central)
Lamar Townsend (North Park)
Martin Trimiew (Wheaton)
---
CCIW Commissioner Chris Martin presents the 2004 trophy to Coach Scott Trost and captain Jim Lehan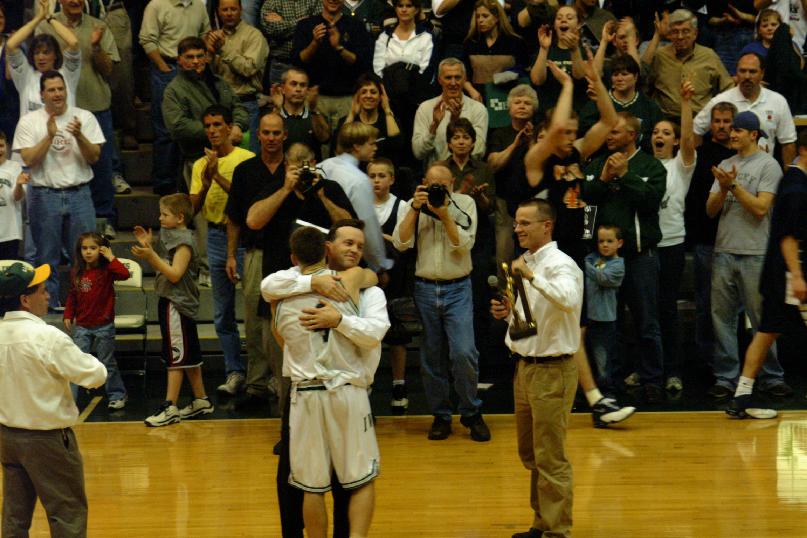 ---
For three years in a row, I have ended my interview with Scott Trost by asking for the "keys to the season." I stayed with that formula this time around.
Last year, Coach Trost said:
"I think our level of mental toughness will define this team. Late in games when things get tough, who is going to step up? How are we going to react to adversity? Last year our seniors found a way...they had been through the wars...this young group has to be strong enough to close games."
It's safe to say Trost's "young group" passed the test. Freeman's game winner at the Shirk Center vs Augustana...Cory Jones' baseline jumpshot and free throws at Elmhurst...the 28-3 lead in Rock Island...coming back from down 9 with five minutes to play against Wheaton in the finale...the Hanover game. At times, the 2003-04 Titans looked like anything but an inexperienced team.
This year, Trost threw five "keys to the season" on the table pretty quickly:
Knocking on wood, he said, "First, we have to avoid injury."
"Second, we have to play better on the road. We were 8-5 on the road last year, and that is not good enough."
"We have to take better care of the basketball. We had as many turnovers as we did assists last year...it's hard to win doing that."
"We have to rebound a lot better." The Titans held an average margin of +5 per game in 2003-04...Trost would like to see that number quite a bit higher.
And finally, Trost said, "The bench has to step up. Mike McGraw, (Steve) Schweer, Andrew (Freeman)...all of those guys are going to have to step up."
Reflecting on these keys, Trost added, "We know how good we can be, and this year others do too. If we can manage that burden of expectations I talk to the guys about, and turn it into a positive, we should be just fine."
The journey of another Illinois Wesleyan basketball season begins on November 19. I have a feeling this is going to be a real good one.
I will see you all at the Shirk Center...
- Bob Quillman
Special thanks to Scott Trost, Keelan Amelianovich, and Adam Dauksas for their time. Best of luck Titans!
---
Season Schedule, Links to All Opponents
The Shirk Center - Home of the Titans