Young Titans Believe They Can Contend
2003-04 Illinois Wesleyan Season Preview, by Bob Quillman - IWUHoops.com
November 6, 2003
---
Preview Sponsored by Aubry Financial Group
For your financial planning needs, see former Titan Mark Aubry ('95)!
(309) 530-1513
mjaubry@aubryfinancial.com
---
Season Schedule, Links to All Opponents
2003-04 CCIW Composite Schedule
The Shirk Center - Home of the Titans
---
Titans Look to Reload with a Young Cast
Talk about losing a lot to graduation. During Illinois Wesleyan's Sweet 16 season of 2002-03, the senior class of Luke Kasten, John Camardella, Seth Hubbard, Chris Silagi, Eric Starkey, Marty Eich, and Laban Cross averaged 62.9 points and 27.7 rebounds per game. That represented 81% of IWU's scoring and 77% of the rebounding.
IWU finished 22-6 (11-3 CCIW) last year, winning two playoffs games before falling to Hampden-Sydney in the Sectionals. The Titan's CCIW title was the school's first since 1997-98, ending a 4 year conference championship drought.
Despite the loss of 4 starters and 7 of the 9 members of his 2002-03 rotation, Illinois Wesleyan third-year head coach Scott Trost has no plans for a "rebuilding" season of any sort. Trost seems very confident that his young cast can surprise many this year.
"I know we are very talented," he said. "It is yet to be seen what that will translate to, but we know we have a lot of weapons."
Those weapons include some very young players, with very little collective varsity experience. Sophomore Adam Dauksas is the lone returning starter and senior Jim Lehan is the only other player on the roster with significant varsity experience. This lack of experience is a big reason the Titan's were picked to finish 5th in the CCIW preseason coaches poll.
Actually, this sounds like a season not so long ago.
The season was 1996-97 and Illinois Wesleyan was fresh off its first-ever Final Four season. Chris Simich, Jon Litwiller, Brady Knight, T.J. Posey, Matt Swingler, and Scott Peterson graduated, leaving some huge holes on the roster. The Titans started a freshman named Korey Coon, and 3 JV players -- Andy Boyden, Nathan Hubbard, and Brent Niebrugge -- to go with returning starter Bryan Crabtree. JV graduates Matt Hoder and John Baines were the key reserves.
The result? 13-1 CCIW...29-2 Overall...NCAA D III national champions.
I am not suggesting that Titan fans purchase tickets to Salem, Virginia, but simply that stranger things have happened than the 2003-04 Titans ending up being a very good basketball team.
It should be another exciting season of Titan basketball. The 2003-04 preview follows.
---
Starting Lineup
In talking to Scott Trost, it's obvious that he has many questions to answer regarding his rotation, but it sure sounds like he is getting comfortable with his starting lineup. It's safe to say that you will see the following five take the floor on November 22 at Chicago:
| | | | | |
| --- | --- | --- | --- | --- |
| Pos. | Name | Year | Height/Weight | High School |
| PG | Adam Dauksas | Soph. | 6-3/190 | Homewood-Flossmoor |
| SG | Keelan Amelianovich | Soph. | 6-6/215 | Neuqua Valley |
| SF | Steve Schweer | Soph. | 6-6/205 | Hinsdale Central |
| PF | Zach Freeman | Fresh. | 6-7/190 | Normal Community |
| C | Cory Jones | Soph. | 6-6/213 | Thornwood |
Profiles of Projected Starters:
Adam Dauksas (pronounced "Dow-chuss")
It was quite a freshman year for the flamboyant point-guard from H-F. Dauksas started Illinois Wesleyan's final 23 games, finishing with averages of 9 pts, 3 rebounds, and 3 assists per game.
Known best for his ball-handling ability, Dauksas can also score, and he's not afraid to take big shots. In 2002-03, Dauksas made a number of memorable baskets late in important games. On the road at Wheaton, he knocked down a 3 in the final minutes to help kill a Thunder rally and seal a win...against Carthage it was a 10 foot floater to put the Titans up 4 with 1:18 to play...at North Central he hit a 3 with 2:29 remaining to spark an IWU comeback...in IWU's miracle comeback at North Park, he scored with 8 seconds to play to send the game to double overtime...and Titan fans will not soon forget the 3 from the top of the key to seal a huge upset playoff victory on the road at Wash U.
Not bad for a rookie.
Last season, Dauksas was asked to fit into a rotation full of veterans. This year, he'll be the most experienced player on the floor. "I think last year my role was to not make mistakes," said Dauksas. "This year my job is to help the other guys get involved, just like John (Camardella), Eric (Starkey), and the guys did for me."
Titan captain Jim Lehan notices a different approach from Dauksas this season. "Adam is assuming more of a leadership role so far this year," said Lehan. "He really is our floor leader out there."
Dauksas doesn't seem worried about the Titan's lack of varsity experience. "I honestly believe we can win the CCIW this year," he said. "I came here to win championships...I got a taste of it last year and now I want to do it every year."
Trost thinks Dauksas is headed for a big sophomore season. "I think Adam will be one of the best point-guards in the CCIW this year," he said. "He just needs to realize that he doesn't have to do everything by himself...his job is to make everybody else better...I love his passion out there."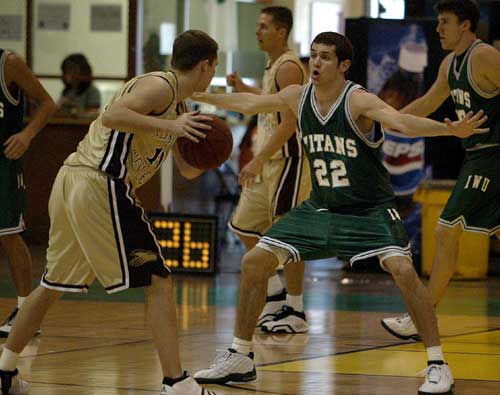 Adam Dauksas
Keelan Amelianovich

From JV player to the projected leading scorer at one of the premier programs in Division III. That's the leap that many around the IWU basketball program expect 6-6 sophomore Keelan Amelianovich to make this season.
Is it possible? Titans fans have seen too many JV player-turned-varsity star stories over the years to think for a second that it's not. Like Chris Simich -- 1994 JV leading scorer, 1995 CCIW M.O.P.. And Brent Niebrugge -- 1996 JV leading scorer...25 pts/11 reb in 1997 D3 national championship game.
"In our offense, Keelan is going to get a lot of shots," said Trost. "We want to get him shots...he shoots the basketball so well."
Jim Lehan feels that Amelianovich will turn some heads in the CCIW. "Keelan brings things to the table that we have not seen at a guard position at Illinois Wesleyan in a long time," he said. "He's big and strong at 6-6 and he can shoot the lights out...Keelan has a great all-around game."
Amelianovich came to IWU with some impressive credentials. As a senior at Neuqua Valley H.S. he averaged 21.6 points, 6.4 rebounds, and 2.9 assists in Upstate Eight conference games.
Amelianovich's game is often compared by Titan fans to that of Bryan Crabtree, the 1997 NCAA Division III Player of the Year. Crabtree is the third leading scorer in IWU history.
No pressure on young Keelan, huh?
Steve Schweer

"He's a warrior...he'll do anything for the team."
That's how Dauksas described IWU's dirty-work man, Steve Schweer. Scott Trost echoed those sentiments. "He is a tremendous competitor with a refuse to lose attitude."
Schweer averaged 13 points and 8 rebounds per game as a senior at Hinsdale Central in 2001-02. Last year on the IWU JV team, he caught the attention of many Titan fans with his hustle and his ability to knock down 3-pointers. Then in May he suffered a big setback, tearing the ACL in his left knee during a pickup game at the Shirk Center. Amazingly, he's just about back to full speed.
"Coming off the ACL, I was very concerned with Steve coming into the season, but he looks almost 100% to me," said Trost. "He worked extremely hard to get here."
The Titans will count on Schweer to do the little things on the floor. Good defense, diving after loose balls, hitting the offensive glass...that is Schweer's game. In IWU's offense he should also get a chance to shoot from beyond the arc.
"Steve Schweer works harder than anyone I have ever played with," said Lehan. "He will be invaluable to this team."
Schweer will be a Shirk Center fan favorite because of the energy and determination he brings to the floor.
Zach Freeman

Freshmen starters have been few and far between at Illinois Wesleyan over the years. It takes a special player -- the likes of Jack Sikma, Bryan Crabtree, Korey Coon, and Luke Kasten. Normal Community's Zach Freeman is about to become the Titan's second freshman to start in as many years.
Dauksas, a freshman starter last season, is impressed with the 6-7 forward. "Zach is stud," he said. "He has a chance to be one of the best players ever to play at Illinois Wesleyan and I do realize what that means."
"Zach reminds me so much of (former Carthage All-American) Jason Wiertel, but he's probably more athletic than Wiertel," said Lehan. "He's a 6-7 lefty who is really good around the basket and he can jump out of the gym." He continued, "I will be shocked if Zach is not one of the best players in the CCIW very soon."
Freeman received significant Division I interest from Murray State, UW-Green Bay, and Indiana State. Trost seems to think he has a very special player in Freeman. "Talented, skilled, athletic, shoots it well...those are words I'd use to describe him," he said. "He has unlimited potential here."
Zach's identical twin brother Andrew is also on the Titan roster, competing for time off the bench in '03-04.
Cory Jones

Cory Jones opened some eyes on November 2 when IWU faced Division II Lewis in a scrimmage. He only shot the ball 4 times (scoring 3 points), but he pulled down 13 rebounds against the likes of 6-8, 230 pound Austin Real, 6'9, 225 pound Sarunas Skadas, and 6-6, 230 Sidney Holmes.
"Co Jo", as he's known, is one of the Titan's strongest players and he can leap with anyone in Division III. Jones and his identical twin brother Chris weren't as "high profile" as some of the other members of IWU's basketball class of 2006. That is probably due to the fact that at Thornwood they played behind and alongside the likes of Eddy Curry (Chicago Bulls), Melvin Buckley (Purdue), and David Moss (Indiana State). They are also simply not high scoring type players. Cory and Chris were role players on the Class AA Thornwood teams that advanced to Peoria in 2001 and 2002.
In 2003-04, Cory will start in the post for Scott Trost's Titans. He's not a dominant back-to-the-basket type scorer ala Seth Hubbard, but he won't be asked to be. Jones will have plenty of opportunities to work one-on-one on the blocks due to the perimeter presence the Titans will have. His athletic ability and soft touch around the hoop make him hard to stop when he gets the ball in good position.
"I don't think people realize how good Cory is," said Dauksas. "I also don't think they realize how physically strong he is and how well he uses his body."
Trost seems to think Jones is ready for his role. "Co Jo will have to guard bigger guys, but he's not afraid," said Trost. "He is athletic and strong and he has a great work ethic.
Keep a close eye on Cory Jones, Titan fans - you'll like him.
---
The Captain
Jim Lehan, Guard (6-0/175, Senior, Dekalb H.S.)

While watching the Titans practice recently, a former IWU starter from the mid-'90s turned and said to me, "If Jim Lehan is your back-up point-guard, your team is pretty darn good."
I think that says it pretty well. Senior Jim Lehan, the 2003-04 Titan captain, will play a key role off the bench this year for the Titans. In addition to senior leadership, Lehan will also bring good defense, solid ball-handling, and overall court savvy to the floor. He's also a better 3-point shooter than most people realize.
Lehan had an impressive finish to his junior season. He was a key contributor in the Titan's comeback effort against Hampden-Sydney in the Division III Sectionals, scoring 13 points with 3 steals in just 13 minutes of play. It was similar to his performance in IWU's miracle comeback at North Park last year, where Lehan was 2-2 from the field and 3-3 from the free throw line.
"I am ready to do whatever needs to be done to help us win," said Lehan. "I expect to play some 1 and some 2, giving both Adam and Keelan breaks...I will play good defense out there and just play as hard as I can."
Lehan seems very confident that the 2003-04 Titans will be in the CCIW title mix. "After being picked 5th by the coaches, I think we will surprise people," he said. "We have a ton of talent on this team and we are confident in our ability...we should compete for the CCIW championship."
---
Fighting for Time
Trost ideally wants a rotation of 9 or 10 players, and it sounds like numbers 7-10 will be earned between now and November 22.
"It is still very early," he explained. "We have some great competition going right now and competition is always a healthy thing."
According to coach Trost, the players in the mix for those 3-4 open spots in the Titan rotation are as follows:
Chris Jones, F/C (6-5/205, Soph, Thornwood H.S.) -- it's conceivable that identical twins Cory and Chris could platoon at the 5 with Cory getting 25-30 of those 40 minutes.
Steve Jeretina, C (6-7/240, Jr, Buffalo Grove H.S.) -- A big, strong kid...the Titans need Jeretina to win time and have a big year off the bench. He will be needed against big post players like Theo Powell.
John O'Brien, F/C (6-6/220, Sr., Bloomington Central Catholic H.S.) -- Will get a shot at the 4 and 5, but probably most comfortable at the 4...can knock down 15 foot baseline jumpshots ala John Baines ('97).
Andrew Freeman, F (6-6/185, Fr., Normal Community H.S.) -- much more of an outside player than his brother, the logical place for Andrew to see time is at the 3.
Mike McGraw, G (6-3/176, Soph, Litchfield H.S.) -- seems to be winning a spot in the rotation with his work ethic and his ability to shoot the 3. As Trost said, "Teams have to guard him."
Jason Fisher, G (6-2/204, Soph, Delavan H.S.) -- "J had his best practice in 2 years last night," said Trost. "He is very talented." Fisher is going to get a long look.
Matt Arnold, G (5-11/155, Soph, Edgewood H.S. - Indiana) -- realistically, Arnold has a huge hill to climb with Dauksas and Lehan in front of him at the point, but as Trost put, "Matt has played as well as anybody so far."
---
Style
Trost thinks his squad will play a slightly different brand of basketball in 2003-04. The Titan personnel dictates a shift from last year's inside-out offense as he sees it.
"We are not going to be able to man-handle teams in halfcourt this year," said Trost. "We will be more up-tempo, looking to push the ball and attack."
The Titans won't ignore the post, however. "I think any offense has to have an inside presence and we have that with Cory Jones and Zach Freeman," he said. "But our post players this year will get different opportunities than Seth and Luke had last year."
Trost believes the key to Titan execution lies on the other end of the floor, though. "With what we are trying to do, defense and rebounding is the number one key," he explained. "We need to create things for our offense from our defense. We need to get the ball and push it...if we do that, we have a chance to be a really good basketball team."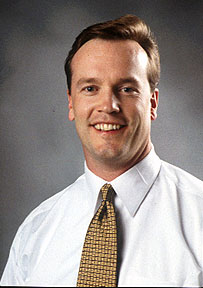 Scott Trost
---
The Non-Conference Schedule
Illinois Wesleyan will play a strong non-conference schedule this season, as always. The Titans will be tested right out of the shoot at the University of Chicago "Midway Classic." On Saturday November 22, IWU faces Chicago in the first men's game ever played in the beautiful new Ratner Center. The Maroons return 4 starters from a 15-10 team that won 11 of its final 13 games. Fortunately for Chicago opponents, gone is 3-time All-American Derek Reich who is now playing professionally in Norway.
Depending on Saturday results, the Titans may face nationally ranked Trinity (Tx) in the Midway Classic. The Tigers, coached by former Chicago head man Pat Cunningham, are ranked 7th in the D III News preseason poll and 13th by D3hoops.com. Trinity won the SCAC last season, finishing 21-8 overall.
After a home game against Beloit, it's on to Wash U.'s Lopata Classic - a tournament IWU has played in many times. In the first round the Titans face Johns Hopkins, who finished 19-7 last year. Among some impressive wins last year, the Bluejays defeated Division 1 Navy 66-61 on Dec. 4.
With a Friday victory, the Titans would most likey face Wash U. The host Bears graduated the terrific class of Jeffries, Tabash, Rook, Parrott, Tylka, but much like Illinois Wesleyan, Wash U. tends to reload quickly.
Olivet Nazarene visits the Shirk Center on December 13. After getting blown out by the Titans 104-67 last season, the Tigers went on to win 23 games and reach the NAIA Division 1 quarterfinals. ONU begins the season ranked #22 in NAIA D1. 6-3 senior Jeremy Riddle earned NAIA All-American honor in 2002-03.
The highlight of IWU's non-conference schedule may be the December 18 home date versus Hanover. The Panthers enter the season ranked #4 by D3hoops.com. Hanover finished at 27-2 last year, losing in the playoffs to eventual national runner-up Gustavus Adolphus. They are led by returning All-American Matt Moore, a 6-0 junior guard. Hanover last visited the Shirk Center during the 1996 playoffs, a thrilling game pulled out by the Titans. IWU fans may remember David Benter, the "Larry Bird of Division 3" as he was billed in Indiana.
Then it's on to Florida for two games. The Titans should be heavy favorites against NAIA Johnson & Wales (North Miami), but they will be big underdogs at Florida Gulf Coast (Fort Myers). In just it's second year as a basketball program, FGCU is building a powerhouse. After a 23-9 opening season, the Eagles find themselves ranked #20 in NCAA Division II. FGCU added some key Division 1 transfers, including 6-7/215 forward Leighton Bowie from the College of Charleston. The Titans will get to see beautiful Alico Arena - one of the nicest small college gyms in the country.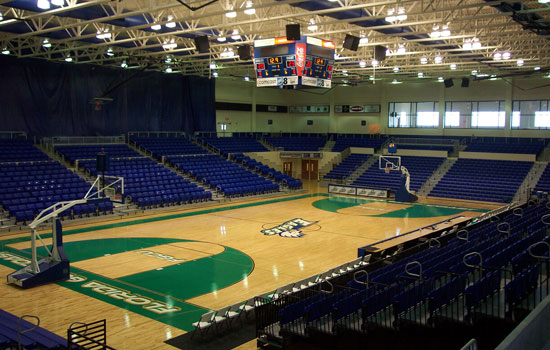 FGCU's Alico Arena
The Titans conclude the non-conference schedule at the Shirk Center on January 7 with a game versus Wabash. The Little Giants, who IWU defeated last year, are expected to be down in '03-04 after graduating Joe DesJean and Brady Claxton.
---
The 2004 CCIW Race
| | |
| --- | --- |
| Final 2003 CCIW Standings | W-L |
| Illinois Wesleyan | 11-3 |
| Augustana | 11-3 |
| Carthage | 11-3 |
| Wheaton | 9-5 |
| Elmhurst | 6-8 |
| North Central | 4-10 |
| North Park | 2-12 |
| Millikin | 2-12 |
Here is how I see the 2003-04 CCIW picture at this early stage of things…
The Favorite - Augie
Every Division III rating released so far has Greg Giovanine's Augustana Vikings ranked in the Top 10 in the country. D3hoops.com has the Vikes 9th, Division III News slotted them 5th , and Street & Smith 4th. Augustana received all 7 possible first place votes in the CCIW preseason coaches poll.
This early recognition is much deserved. Augustana returns just about everybody from a squad that shared the CCIW title last year with IWU and Carthage, finishing 20-5 overall. Leading the way will be returning 1st Team All-American guard Drew Carstens. Carstens, a real warrior on the floor, averaged 19.4 points in 2002-03. He continues to get to the foul line at an amazing clip - last year he shot 186 free throws, connecting 79% of the time.
6-6, 220 pound Shawn Clements will return to the starting lineup after an ACL injury ended his 2003 season early. Clements, who averaged 13.7 points and 6.5 rebounds last year, gives the Vikings good muscle. 5-10 senior point-guard Jim Thomas dished out 94 assists last season and should be ready for a solid senior campaign. 6-6 seniors Brad Novak and Bill Goehrke will continue to fill important roles for Giovanine. From outside, Augustana has three very dangerous weapons in additon to Carstens - 6-4 senior Joe Baumann, 6-3 sophomore Rick Harrigan from Brother Rice H.S., and 6-3 Division I transfer (Evansville) Jordan Watson.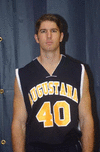 Shawn Clements
Other Contenders
(I throw the Titans in this mix of teams.)
Led by Carstens fellow 1st Team All-American Joel Kolmodin, Wheaton should be very much in contention. There isn't a better story in all of Division III than that of Kolmodin, who returned to play last season after being told by doctors his career was over. Since his junior year in high school, the 6-8 senior has had five knee operation for torn cartiliage. After missing almost all of his sophomore season, he returned to the Thunder lineup in a big way. As a junior, Kolmodin averaged 23.2 points and 10.1 rebounds and easily won the CCIW Fred Young Most Outstanding Player honor. Wheaton came up just a bit short in the 2003 race, finishing 9-5, but behind Kolmodin, returning CCIW assist leader Jon Nielson, and some key newcomers to the lineup the Thunder will be hard to beat.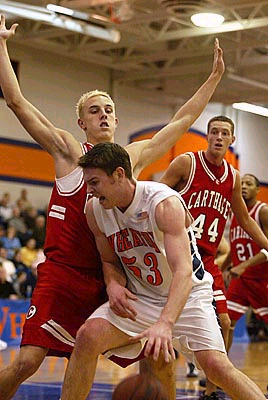 Joel Kolmodin
The key to Wheaton's season, in my opinion, will be the play of 6-5 junior Jonathan Steven. Steven was a Division 1 prospect in California as a high school junior, getting attention from Gonzaga, among other prestigious schools. He didn't play basketball his senior season or as a freshman in a junior college the next year. As a sophomore at Wheaton he became academically ineligible, but appears ready for action in 2003-04. All indications are that Steven has the potential to be a big-impact player in the CCIW.
----------
Flying under the preseason radar a screen a bit is Elmhurst. The Bluejays have a ton of talent on their 2003-04 roster, including 6-1 senior sharp-shooter Wayne Bosworth. Bosworth made a very impressive 75 of 150 3-point attempts last season on his way to averaging 17.2 points per game. In CCIW games he made 44-84 (.524) from beyond the arc - the best percentage in the league.
Returning to the Elmhurst program is Chris Martin, a 2nd Team All-CCIW selection as a freshman in 2001-2. Martin is back after leaving Elmhurst College for a year. At 6'6, the Eureka High School product is a very versatile player, able to play the shooting-guard or small forward positions effectively. Bluejay coach Mark Scherer may even ask Martin to bring the ball up the floor at times this season. 6-6 juniors Reuben Slock and Gabe Kirstein are other key returnees. The folks at Elmhurst are very excited about freshmen Lafayette Bell and Nick Michael, as well a couple of junior college transfers.
----------
As long as Bosko Djurickovic is at the helm of the Carthage Redmen, they will be a factor in the CCIW race. Despite losing 1st Team All-CCIW players Antoine McDaniel and Rob Garnes, Carthage should be a good team this season. In 6-7, 225 senior Theo Powell, they have one of the best post players in the nation. Alongside Powell in the frontcourt will be 6-6, 210 junior Kevin Menard, a transfer from Division I Marquette last year and 6-6, 205 sophomore Mark Morrison, who had a solid freshman season.
The big question Djurickovic will have to answer is in the backcourt. Four-year starter McDaniel is gone, as is 2003 backcourt mate Bart Fabian. If the Redmen can find a decent combination in the backcourt - one that doesn't hurt them - they will be a big factor in the CCIW title race.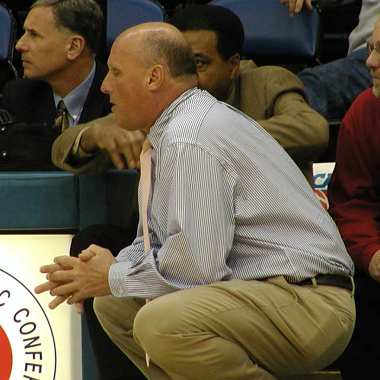 Bosko
The Rest of the Pack
North Central should continue to improve under 3rd-year coach Benjy Taylor. The Cardinals finished 4-10 in the league last year, but played many of the contenders very tough. 6-3 junior Mike Wilson, a transfer from Division II Lewis last season, opened a lot of eyes in 2003. Wilson averaged 18.6 points on the year, behind 43% accuracy from beyond the arc and 86% at the free throw line. 6-3 junior Monte Williams and 6-8 sophomore Josh Wesley are other key returnees for the Cardinals. North Central won't win it, but they are going to beat some good teams and have a big impact on the race.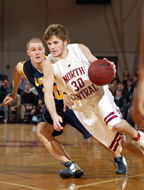 Mike Wilson
North Park's season seems to hinge on what the NCAA rules regarding 6-4 forward Sneed Deaderick's eligibility. Deaderick, who accepted a scholarship to Division 1 Depaul out of high school, had a big 2003 season for North Park, averaging 16.2 points per game. He was named to the All-CCIW 2nd team. For some reason, the eligibility issue is still unresolved with just a few weeks left before the opener. With Deaderick, North Park can probably make some noise. Without, they will probably finish in the bottom 3.
The is no indication that Millikin will improve on their 7-18, 2-12 finish in 2002-03.
---
Trost on the CCIW
"Augustana has to be the favorite," said the Titan skipper. "They have everybody back from a team that tied for first and they have a 1st Team All-American (Carstens)."
Trost also sees Wheaton as a serious contender. "They have a 1st Team All-American too in Kolmodin and most of their guys back from a good team."
"After that, I think we are right there as far as contenders go," Trost continued. "Carthage will be good, and so will Elmhurst...North Central will be better and North Park will be tough if they have (Sneed) Deaderick...Millikin returns most of their team, so they'll be better."
Trost sees a definite movement in the CCIW towards parity. "Just look at last year - three teams tied for first," he said. "The bottom teams are getting better too...it is just a tough league from top to bottom...anyone can beat you."
---
Final Thoughts
I asked Scott Trost for one key that will make or break this season.
"I think our level of mental toughness will define this team," he said. "Late in games when things get tough, who is going to step up? How are we going to react to adversity? Last year our seniors found a way...they had been through the wars...this young group has to be strong enough to close games."
However the 2003-04 season shakes up, the fun part for the fans is in watching these young players mature over the course of a season...watching them in the exact situations coach Trost is referring to. Remember, it was just 3 seasons ago that Titan fans watched sophomores Laban Cross, Seth Hubbard, and Luke Kasten lead IWU to victory over Chicago in the Sectional. Will that be Adam Dauksas, Keelan Amelianovich and Zach Freeman this March? We'll see.
Get ready for another season of Titan basketball - the opener is right around the corner.
Good luck Titans,
- Q
Special thanks to Adam Dauksas, Jim Lehan, and Scott Trost for their time.