Titans seek 4th straight CCIW title, deep playoff run
The 2005-06 Season Preview
November 3, 2005
---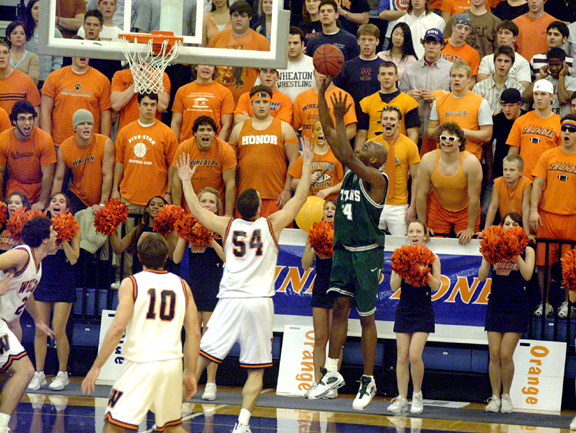 Chris Jones and the Titans will be in plenty of hostile territory again in 2005-06
---
Everyone back from CCIW title team
5 of 5 starters.
The top 5 reserves.
99.5% of scoring, 98.9% of rebounding, and 100% of assists.
It would be hard to imagine a CCIW conference championship team returning more than than the 2005-06 Illinois Wesleyan Titans. The incredible amount of returning talent is the reason Scott Trost's club has been tabbed as the favorite to win the 2006 CCIW crown by the league's head coaches and as the #1 team in Division III in preseason polls published by D3hoops.com, Street & Smith's magazine, and Division III News.
The 2004-05 Titans became the first CCIW squad to win three consecutive conference championships since the great North Park teams of 1978-90. Illinois Wesleyan weathered injuries to starting big men Cory Jones and Zach Freeman and finished 21-5 overall and 12-2 in the CCIW. Adam Dauksas was named the league's Fred Young Most Outstanding Player, joining team Keelan Amelianovich (2004) as a recipient of the award.
Dauksas was named to the D3hoops.com 1st Team All-American squad and Amelianovich to the 2nd.
Early 2005 tournament exit drives Titans
As special as 2004-05 was, it ended on a down note with the Titans losing an NCAA tournament game at home for just the second time in the 11-year history of the Shirk Center. Hanover College executed almost flawlessly on offense in a thrilling 81-76 2nd Round victory over the Titans. It is this memory - and not that of the past 3 CCIW titles, Most Outstanding Player awards won, and All-American honors - that clearly drives captains Dauksas, Amelianovich, and Jones in their preparation for the new season.
"The Hanover loss was on our mind all summer," said Dauksas. "They're a great team, it was a great game, but it was definitely disappointing...I think we've all used it in our preparation for this year."
Amelianovich echoes those thoughts. "That game taught us that we need to get a little stronger and a little tougher," he said. "I think we will be a better team this year because of that experience."
"Hanover is a very physical team and we all know we have to match that level for a full season this year," said Jones. "I know we are up for the challenge."
CCIW goals key to season
When conference play begins on January 4, 2006, Illinois Wesleyan will set out to win its fourth consecutive CCIW championship, a feat accomplished only three times in the 59-year history of the league - Wheaton from 1956 to 1959, Illinois Wesleyan from 1964 to 1967 and Augustana from 1971 to 1974.
"Our first goal, our primary goal, is to win the CCIW regular season," said Trost. "Then it is to win the CCIW tournament because that is the automatic bid, and then it is to go farther and compete on a national level."
With a #1 ranked team, expectations are as high as possible for the 2005-06 Titans, and Trost clearly has goals beyond the conference. "We want to get to Salem and I think it is OK to say that," he said. "I remember Bruce Weber talking about his kids last year and that they talked about St. Louis (site of the D1 Final Four). I don't want Salem to be our primary focus and goal, but we need to go farther than we did last year. But it all starts with winning the CCIW, and to be honest, that may be the hardest thing."
---
The projected 10-man rotation
The Big 3...
| | | | | |
| --- | --- | --- | --- | --- |
| G | Adam Dauksas | 6-3/190 | Sr | Homewood-Flossmoor H.S. |
2004-05 Stats: 15.1 ppg, 3.6 rpb, 5.6 apg, 45-114 3-pt (.395)
2004-05 Honors: CCIW Fred Young Most Outstanding Player, D3hoops.com 1st Team All-American, NABC Midwest Region Player of the Year, NABC 1st Team All-American
Scott Trost: "Best point-guard in the country in my opinion...has been a starter on 3 conference championship teams...finds a way to win and wants the ball in crucial situations...was the Most Oustanding Player in the league last year and was very deserving."
Milestone Watch...
IWU career assist record: 524 (Brian Martin '93)
- Dauksas total through 2004-05: 380
- Needs 145...has averaged 148 the last 2 seasons
| | | | | |
| --- | --- | --- | --- | --- |
| F | Keelan Amelianovich | 6-6/210 | Sr | Neuqua Valley H.S. |
2004-05 Stats: 17.9 ppg, 4.8 rpg, 67-147 3-pt (.456)
2004-05 Honors: 1st Team All-CCIW, D3hoops.com 2nd Team All-American, ESPN The Magazine Academic All-American College Division 2nd Team
Scott Trost: "One of the best shooters I have had the opportunity to coach at any level...6-6, works extremely hard, and has developed his ability to put the ball on the floor and get to the rim...isn't afraid to take a clutch shot...a great leader...one of the premier players in the country."
Milestone Watch...
IWU career 3-pt FG Made:
1. Korey Coon: 245 (1996-00)
2. Mark Edmundson: 235 (1986-90)
3. Bryan Crabtree: 179 (1993-97)
4. Keelan Amelianovich: 155
| | | | | |
| --- | --- | --- | --- | --- |
| C | Zach Freeman | 6-7/210 | Jr | Normal Community H.S. |
2004-05 Stats: 14.2 ppg, 6.8 rpg, 107-194 FG (.552)
2004-05 Honors: All CCIW 2nd Team
Scott Trost: "Potentially and athletically, Zach is as good as anybody....needs to play with a little more nastiness and a chip on his shoulder...hard to guard because he can shoot, he can put the ball on the floor, and he is as athletic as any player in our league...he can be as good as he wants to be."
The Jones platoon...
| | | | | |
| --- | --- | --- | --- | --- |
| F | Chris Jones | 6-5/210 | Sr | Thornwood H.S. |
Scott Trost: "Chris has really developed...might be one of our best offensive players in the low post...has developed a 15, 16, 17 footer and can even shoot the trail 3 if he has to...was our 4th leading scorer in Costa Rica."
| | | | | |
| --- | --- | --- | --- | --- |
| F | Cory Jones | 6-6/215 | Sr | Thornwood H.S. |
Status: Broken left hand...successful surgery performed, expected back for Wabash Tipoff Tournament.
Scott Trost: "I feel bad for Cory, but he will be back in 3 weeks hopefully...he is a physical presence for us and has developed his post moves...a great leader...relentess rebounder...we need him in there if we're going to go as far as we think we can and want to."
2-guard competition....
| | | | | |
| --- | --- | --- | --- | --- |
| G | Matt Arnold | 5-11/165 | Sr | Bloomington, IN (Edgewood H.S.) |
| | | | | |
| --- | --- | --- | --- | --- |
| G | Jason Fisher | 6-2/210 | Sr | Delavan H.S. |
| | | | | |
| --- | --- | --- | --- | --- |
| G | Mike McGraw | 6-3/180 | Sr | Litchfield H.S. |
Scott Trost: "I've talked to Matt, Fish, and Mike McGraw and challenged them all that someone's got to emerge at that spot...one of them has to step forward...I didn't expect Matt to do what he did last year, he elevated his game...gives us the ability to break down the defense and can shoot...Fish has all the athletic ability in the world but now he needs to be consistent and elevate his game...has potential to be outstanding...Mike is a great stationary shooter and really extends the defense...so far they have all done well, but again, for us to be as good as we want to be, one of those guys has to grab ahold of it and take it."
Super subs in the post...
| | | | | |
| --- | --- | --- | --- | --- |
| F | Steve Schweer | 6-6/220 | Sr | Hinsdale Central H.S. |
Scott Trost: "Steve would start on a lot of teams in our league...is constant energy...brings great emotion and passion to the game...a great defender, get on the floor guy...a great leader...no one is going to outwork Steve Schweer and if you need a rebound, he's going to go get it."
| | | | | |
| --- | --- | --- | --- | --- |
| F | Andrew Freeman | 6-6/200 | Jr | Normal Community H.S. |
Scott Trost: "Andrew got some good experience last year...just has to keep playing with confidence...shoots the ball well...is athletic and gives us flexibility because he can play the 3 or the 4...Andrew is going to be a better player this year than he was last."
---
Non-Conference Schedule
"I think this is as tough of a schedule as I've put together here," said Trost of his 2005-06 non-conference slate. "But this team I think is capable of handling that and knowing there will be some ups and downs. All it does is prepare us for our league and that is the main reason you schedule like that."
The obvious highlight of the non-conference season for fans will be a game that doesn't even count. On November 3, the Division III Titans will travel to Champaign to face the defending Divison I national runners-up - the University of Illinois Fighting Illini. The game will be an exhibition and not factor into the overall season records of either squad (but it does count as one of the 11 non-conference games the Titans can play). Adam Dauksas vs Dee Brown…Zach Freeman vs James Augustine…Keelan Amelianovich vs Brian Randle. Seems strange, but it is once in a lifetime opportunity for the Titans.
"It's a win-win for us. It's a great opportunity for our guys and will be a great experience," said Trost. "I think our guys will go in there and compete and let's see what happen. We'll play as hard and smart as we can and try to defend, rebound, run, and take care of the ball."
The "real" season gets underway on November 18-19, as the Titans participate in the Wabash "Little Giant Tipoff Classic" for the second time in four years. IWU will face 2005 tournament team Texas-Dallas in the opener and then either Alma or the host Little Giants.
The two toughest non-conference games may be the ones vs NAIA Division 1 powers Olivet Nazarene (11/22) and St. Xavier (11/28). The Tigers and Cougars, who battle each other every year for the Chicagoland Collegiate Athletic Conference title, will bring size and athleticism to the Shirk Center.
The first three Saturdays in December, the Titans will be on the road to face Division III opponents. University of Chicago and Washington U. are familiar foes to Titan fans, while Illinois College is new to the schedule.
Circle Tuesday, December 20 on your calendar. If the four games in the last two seasons are any indication, you won't want to miss a contest between Hanover and Illinois Wesleyan. In 2003-04, Hanover beat a then young IWU team fairly convincingly at the Shirk Center in the regular season, but the Titans got revenge in March, upsetting the Panthers on their homecourt in the NCAA Division III tournament. During last year's non-conference slate, Hanover defeated the Titans in the final seconds in Indiana and then of course knocked IWU out of the tournament in March. Matt Moore, Tommy Dennis, and Ryan Lanning are gone, but Ben Lye, Nate Minyard, and Brian Chrin return for another game at the Shirk Center.
The final CCIW tune-up will take place in a tournament Titan fans are familiar with - the Westmont College Tom Byron Classic. Illinois Wesleyan has competed in the Santa Barbara-based school's touney twice in the last 10 years - 1996-97 and 2001-02. The Titans will take on Division III #4 ranked Puget Sound on Dec. 29, and then either the Berry (Ga.) or the host Warriors (both well respected NAIA Division 1 programs) the following evening.
---
College Conference of Illinois and Wisconsin
Scott Trost knows the CCIW race will be a dogfight again, and he feels there will be plenty a challengers to the title. "If you are looking at it based on who's returning and on new players, I think you've got to look at Augustana and Elmhurst as your top two contenders, with Carthage right there too," said Trost. "Augustana added some newcomers that are very, very good and they have a lot of players coming back...Elmhurst is big and the return of Chris Martin obviously helps them...Carthage has some really talented kids up front...their question will be how will Bosko handle his backcourt, and if he finds that answer I think they're as good as anybody too."
Elmhurst is rated #15 nationally by D3hoops.com, while Augustana received Top 25 votes in the preseason poll as well.
Trost seems to like the North Central nucleaus as well. "Anthony Simmons is one of the top post players returning in the league and they can definitely beat anybody."
"It's a great Division III league - after the Wisconsin state league (WIAC), I think the CCIW is the toughest," said Trost. "Every game is a battle and it is very hard to win on the road."
2005 CCIW Standings:
Illinois Wesleyan 12-2
Wheaton 10-4
Elmhurst 10-4
Augustana 9-5
Carthage 6-8
North Central 5-9
Millikin 4-10
North Park 0-14
2005 CCIW Capsules...
Augustana
2004-05 record: 17-8 overall, 9-5 CCIW (4th)
Double digit scorers lost: none
Projected Starting Lineup:
G Drew Wessels (6-1/169, JR)
G Rick Harrigan (6-3/220, SR)
F Jay McAdams-Thorton (6-4/225, SR)
F Nate Switella (6-7/202, JR)
C Dain Switella (6-9/219, SO)
Augustana has all of the pieces in place to make a run at the CCIW title. All-CCIW 1st Teamer Jay McAdams-Thorton (14.9 ppg, 6.4 rpb) returns for his senior campaign. 6-4 McAdams-Thorton is a versatile offensive player who can score inside or out. Senior Rick Harrigan (13.4 ppg, 3.2 rpb), one of the CCIW's top 3-point shooters, had a solid junior season and should be poised for a big year. Drew Wessels (8.0 ppg. 2.5 rpg, 3.3 apg) gives Grey Giovanine's Vikings experience at the point-guard position. In the post, Augustana welcomes two impact transfers - 6-7 Nate Switella (Minnesota State - Mankato) and his 6-9 brother Dain (Kirkwood Community College). The Switella's are the sons of Viking assistant coach Ray Switella. Freshman Mike Kolze (Lake Zurich H.S.) may have trouble finding a lot of playing time this year, but keep an eye on him - he'll be a CCIW star sooner than later.
-----
Carthage
2004-05 record: 12-13 overall, 6-8 CCIW (5th)
Double digit scorers lost: Kevin Menard (12.9 ppg), Pat Kalamatas (12.6 ppg)
Projected Starting Lineup:
G Navarro Thompson (5-8/150, JR)
G Keena Johnson (6-3/191, SR)
F Kyle Jeffery (6-6/225, SO)
F Brian Schlemm (6-7/235, JR)
C Mike Hart (6-9/200, JR)
There is no question the 2005-06 Carthage Redmen have a ton of talent, but whether or not the pieces all fit together is yet to be seen. Junior post player Mike Hart had a great finish to the season, sparked by a 23 point performance off the bench versus IWU on February 16. Additional size comes in the form of 6-7/235 Brian Schlemm and 6-6/225 sophomore Kyle Jeffery. This Carthage squad will go as far as their backcourt takes them, and at this point that backcourt is really an unknown. Keep an eye on this squad as by conference time, if they have had some players step into key roles, they could be a legitimate threat.
-----
Elmhurst
2004-05 record: 18-7 overall, 10-4 CCIW (T 2nd)
Double digit scorers lost: none
Projected Starting Lineup:
G Aaron Gowell (5-10/160, JR)
G Chris Ihlenfeldt (6-1/185, SR)
F Chris Martin (6-6/210, SR)
F Brent Ruch (6-9/255, FR)
C Nick Michael (6-10/230, JR)
It looks like Elmhurst has found a solid point-guard in 5-10 Muskegon Junior College transfer Aaron Gowell. Gowell led his junior college conference in assists last season while shooting over 40% from 3-point range. The second newcomer Elmhurst expects big things from is huge 6-9/255 freshman Brent Ruch. Ruch has polished low post moves and can also shoot from beyond the arc. Ruch has already had two ACL surgeries, so his mobility at the college level is the big question. The Bluejays will benefit from several tough non-conference games, such as @ Hope, @ UW-Platteville, and vs Hanover. Chris Martin should have another huge season.
-----
Millikin
2004-05 record: 12-13 overall, 4-10 CCIW (7th)
Double digit scorers lost: Jason Fisher (15.1 ppg), Chuck Williams (16.9 ppg)
Projected Starting Lineup:
G Robbie Kaiser (5-11, Jr)
G Reid Jones (6-1, Sr)
F Mike Gavic (6-5, Jr)
F Tyler Nohren (6-6, So)
F Korte Long (6-6, Jr)
The Big Blue have a big void to fill on the perimeter after losing Jason Fisher and Chuck Williams to graduation. Robbie Kaiser and Reid Jones should get a shot to start, but look for heralded freshman Ray Kissing (Marion Crab Orchard H.S.) to get into the mix as well. Millikin enters the season as one of the league's unknown commodities.
-----
North Central
2004-05 record: 15-10 overall, 5-9 CCIW (6th)
Double digit scorers lost: Mike Wilson (14.3 ppg)
Projected Starting Lineup:
G Adam Teising (5-11/160, JR)
G Ray Vicario (6-0/170, SR)
F Daniel Walton (6-5/180, JR)
F Adam Krumtinger (6-7/220, JR)
C Anthony Simmons (6-6/225, JR)
North Central started 3-0 in CCIW play under first-year Cardinal skipper Todd Raridon, but proceeded to lose 7 in a row from January 15 to February 5. Anthony Simmons emerged as one of the CCIW's top big men, averaging 15.0 points and 6.4 rebounds per contest. Daniel Walton (13.3 ppg, 6.2 rpg) had a big sophomore season as well. In 2005-06 look for the steady guard combo of Adam Teising and Ray Vicario to provide a well-balanced attack for the Cards who will most likely have a few newcomers emerge as impact players.
-----
North Park
2004-05 record: 4-21 overall, 0-14 CCIW (8th)
Double digit scorers lost: Lamar Townsend (12.6 ppg) Je'shawn Stevenson (10.0 ppg)
Projected Starting Lineup:
G Eric Allen (6-3/190, SO)
G Uriah Rice (6-2/185, JR)
F Jason Gordon (6-3/200, SO)
F Brett Mathisen (6-5/210, SR)
C Jeremiah Sargent (6-7/240, FR)
North Park went 0-14 in 2005 conference play and lost its top 2 scorers. NPU's last winning season was in 1994, but those close to the program feel 2nd-year coach Paul Brenegan is the right man to return the Park to CCIW respectability. Blue-collar post player Brett Mathisen returns after a 3rd Team All-CCIW junior campaign. Freshman center Jeremiah Sargent should get a chance to start for the 2005-06 Vikings.
-----
Wheaton
2004-05 record: 20-6 overall, 10-4 CCIW (T 2nd)
Double digit scorers lost: Kent Raymond (15.9 ppg), Jonathan Steven (15.8 ppg), Jon Nielson (11.7 ppg), Martin Trimiew (10.5 ppg)
Projected Starting Lineup:
G Tony Bollier (6-0/165, SR)
G David McAlpine (6-1/190, SR)
F Jordan Kemper (6-3/195, SR)
F Johnnie Standard (6-3/195, JR)
C Michael Fiddler (6-7/200, JR)
Perennial CCIW title contender Wheaton appears caught in rebuilding mode this season. Bill Harris' Thunder lost four starters from last year's 20-6/10-4 NCAA tournament team to graduation - Jonathan Steven, Martin Trimiew, Jon Nielson, and Jim Fortosis. His fifth starter, freshman sensation Kent Raymond (18.2 ppg in CCIW play), has decided not to play basketball this season. Wheaton also lost two young players who were expected to step into significant varsity roles this season - Luke Trenz and Luke Bennett, who both transferred. Expect Johnnie Standard to lead this Wheaton team in scoring. He is a hard-nosed player who can score inside and out. The Thunder have a solid senior point-guard in Tony Bollier, who has been a solid reserve for three years. Bill Harris & Co. will need junior big-man Michael Fiddler to have a big season.
---
Final Thoughts
As always - and very predictably - my final question of Coach Trost was, "So what is the key to the season?"
"A couple things - we have to avoid injury this year and we have to avoid complacency," said Trost. "'Senioritis' can set in where the guys are focusing on what they are going to do after graduation, which is obviously important, but from a basketball standpoint they will need to maintain focus."
The 2003, 2004, and 2005 CCIW Coach of the Year doesn't think his squad will fall victim to this, however. "I don't think that will happen," he said. "We have great leadership with guys like Dauksas, Amelianovich, and Cory (Jones)...their work ethic is second to none."
"What we do know for sure is that we are going to take everyone's best shot," Trost continued. "That will only make us better as the season goes on...we will be ready."
So there it is -- another year of Illinois Wesleyan basketball gets underway on November 3 with expectations of big, big things. We will see everyone along the way of what promises to be one heck of a ride.
Good luck to Scott Trost and the Titans,
Bob Quillman (IWU '93)
---
Links
Season Schedule, Links to All Opponents
The Shirk Center - Home of the Titans