Titans Look to Reload with Young Cast
2000-2001 Illinois Wesleyan Season Preview, by Bob Quillman
October 22, 2000
---
2000-2001 Schedule
2000-2001 CCIW Composite Schedule
1999-2000 Final Individual Stats
1999-2000 Final CCIW Standings, Stats
The Shirk Center - Home of the Titans
---
Players like Korey Coon don't come around very often. In the illustrious history of Illinois Wesleyan basketball, only 4 players have scored more points than the 6'0 point guard - Jack Sikma, Blaise Bugajski, Bryan Crabtree, and Greg Yess. Coon also helped give Illinois Wesleyan fans something they will always cherish - a national championship. With Coon a productive member of the business world now, working as an Investment Analyst for State Farm Insurance in Bloomington, a new cast of Titans is ready to take the reigns.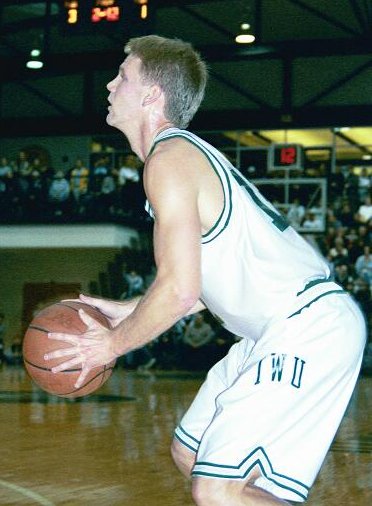 Korey Coon made 245 3-point field goals from 1996-2000, a school record.
1999-2000 Review
In 1999-2000 the Coon led Titans finished 17-8, and 9-5 in the CCIW. It was another season plagued by injury for the Titans, after losing Nathan Hubbard to a broken hand the previous year. The first player to go down was 6-6 forward Mike Rogers, the team's returning leading rebounder and defender. Rogers played sparingly in the season opening Tip Off tournament, but opted for season ending foot surgery shortly after. Then on December 7, starting forward Phil Hurst suffered a torn ACL in a victory over Olivet Nazarene. Finally, on December 18 the Titans were dealt possibly the biggest blow, when 6-4 forward Jerry Happ also fell victim to a torn ACL. Happ was leading the team in assists and rebounds at the time of his injury.
The Titans regrouped after the injuries, and led the CCIW race at the midway point. After a 7-1 conference start (including convincing wins against eventual champion Carthage and at defending champion Wheaton), the Titans stumbled in Rock Island on February 9th. A sluggish IWU team lost 89-74 to Augustana, while Carthage escaped Millikin with an overtime victory that same Wednesday night. Then 3 days later the Titans traveled to Kenosha for what would turn out to be one of the biggest games of the year. After leading Carthage by 7 at halftime, the Titans fell 80-75 in a game that went down to the final seconds. Carthage went on to win their first ever outright CCIW championship with a record of 11-3, while the Titans dropped late games to Wheaton and Millikin. IWU's 9-5 record (3rd place) was the schools worst finish since the '92-93 season. The injury depleted Titan squad simply did not seem to have enough gas in the tank during the second half of the conference season.
2000-2001 Outlook
Definite Starters - Kasten, Osborn, Cross
Illinois Wesleyan fans got a good look at the future last season - namely 6'7 forward Luke Kasten. The all-stater from Coffeen, Illinois (Hillsboro H.S.) was inserted into the starting lineup before game #1 of his freshman season, and he certainly did not disappoint. In the season opener, Kasten scored 27 points and pulled down 10 rebounds in an IWU comeback victory over NCAA Division 3 playoff participant Roanoke College. Kasten was tremendous all season long, finishing with averages of 16.3 points and 7.2 rebounds per game. His 407 points was the most ever scored by a freshman in Illinois Wesleyan basketball history, eclipsing the previous mark of 362 points, set by Sheldon Thompson in the 1967-68 season. Kasten was the 5th leading scorer in CCIW play last year, averaging 18.6 points in 14 league games. Only All-CCIW first team performers Jason Wiertel, Korey Coon, and Luke Moo scored more than the freshman. He finished second in rebounding to Carthage standout freshman Rob Garnes with a 7.6 average per game. Kasten was named "2nd team All-CCIW" for his efforts.
Based on his 6-7 frame and high expectations, many compare Kasten to 1997 Division 3 "Player of the Year" Bryan Crabtree. Kasten's height and uniform number (34) are really the only similarities however. Crabtree was primarily a 3-point shooter his first 2 ½ seasons at IWU, before adding an effective penetration game the remainder of his career. Kasten is mainly a post player, with excellent foot work and a soft touch around the basket. If one is to compare him to a former IWU great, Jeff Kuehl ('90) would probably be the best choice. Kasten is also an excellent jump shooter up to 17 feet, and does have the ability to knock down the 3-point shot (although you probably won't find that option in Dennie Bridges' playbook). Expectations are certainly big for Kasten as he heads into his sophomore season.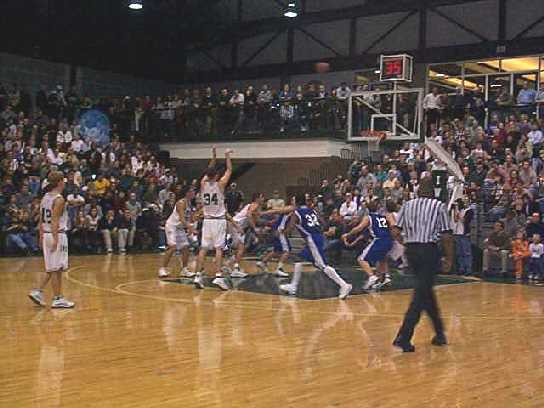 Luke Kasten at the line last season against Millikin.
The captain of the 2000-01 Titan squad, as voted by his teamates, is 6-2 senior guard Adam Osborn (Lincoln H.S.). In CCIW play last season Osborn averaged 12.7 points, 3.7 assists, and 1.5 steals per game. Osborn broke out for 29 points against Millikin on February 5th, leading the Titans to victory. Many expect Osborn to emerge as one of the top guards in the CCIW this season. Osborn is also considered the team's best perimeter defender, and seems to have a knack for finding the ball in crucial defensive situations.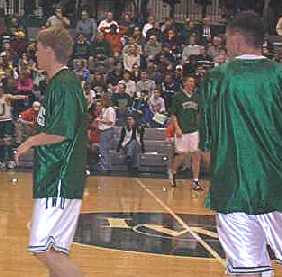 Captain Adam Osborn (right) will finally get his chance to emerge from Korey Coon's shadow.
The Titans are loaded with good, young guards. It looks like the favorite to emerge from that group to join Osborn in the backcourt however, is sophomore Laban Cross. The former Class A all-stater from McLeansboro H.S. has returned to campus after leaving school last season. In 1999-2000 Cross played well as the Titans first guard off the bench, but left school on January 13th. After some off-season soul searching the 6-2 guard decided to return to Illinois Wesleyan. Cross is a deadly three point shooter who has potential to be a big impact player in the CCIW. He is the second all-time leading scorer in McLeansboro High School history, behind only former NBA standout (and current Utah Jazz head coach) Jerry Sloan.
Two Frontcourt Spots up for Grabs Between Four
Another member of IWU's outstanding sophomore class with a chance to start is versatile 6-4 forward John Camardella (Arlington Hts, Hersey H.S.). Probably the team's best overall athlete, Camardella is a good defender and strong rebounder. He is also a good 3-point shooter, connecting on 8 of 19 (.421) attempts as a freshman last year.
Another key to the upcoming season is steady 6-6 senior forward Todd Wente (Effingham, St. Anthony H.S.). After the injuries to forwards Rogers, Hurst, and Happ last season, Wente was thrown into the starting lineup and peformed very well. On the season he average 8.8 points and 5.2 rebounds and led the team in rebounding in 3 different games. Wente is a good perimeter jump shooter with range extending to just inside the 3-point line, and can also play the post.
One variable that could prove very critical, but remains a bit of a question mark, is returning 5th year senior Mike Rogers. After missing almost the entire season last year with a foot injury and taking a medical redshirt, Rogers will be back in a Titan uniform this year. The 6-6 forward was IWU's leading rebounder and best defender in 1998-99. Rogers looks to give IWU a huge boost on the boards, either off the bench or as a starter.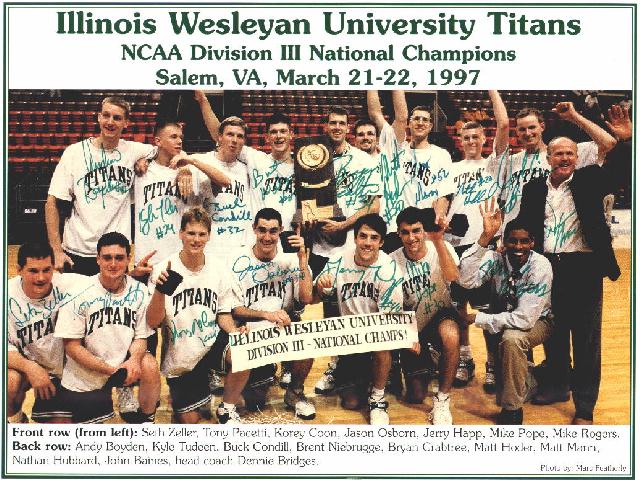 Mike Rogers (bottom, right) was a freshman on IWU's 1997 national championship team.
The final candidate for a starting spot is 6-7 sophomore Seth Hubbard (Normal, Univeristy High). Brother of 1998-99 Titan team MVP Nathan and an IHSA first team all-stater, Seth comes into his sophomore season with big promise. A true center with outstanding post moves, Hubbard provides the Titans with another solid offensive presence in the middle.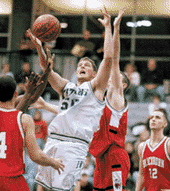 Seth Hubbard battles for a rebound
Others Competing for Time
Sophomore guards Eric Starkey and Chris Silagi should see time in relief of Cross and Osborn. There is also a chance that highly touted freshman guards Jim Lehan (Dekalb) and Sean McGuire (Prairie Central) will be in the mix by the time the CCIW season rolls around. Of the forwards, Ryan McCreery (a starter for parts of last season), Craig Bunting, Marty Eich, and Mark Boswell will get a chance to compete for playing time.
Of the remainder of IWU's strong freshman class, Casey Tushaus (Quincy Notre Dame) has the best shot to see varsity minutes, but mostly likely his 2000-01 role with be on the JV team, alongside fellow freshman John O'Brien (Bloomington Central Catholic) and Jabari Adams (Macomb).
Coach Dennie Bridges Enters Season Number 36
While there will be many new faces on the Illinois Wesleyan bench this season, one will be very familiar. Dennie Bridges enters the 2000-01 season as the winningest active coach in Division 3 basketball, with a cumulative record of 643-312 (.673) in 35 seasons. In that span Illinois Wesleyan has a CCIW record of 411-125 (.767) and has won 17 conference championships. In 1997 Coach Bridges was named "Division 3 Coach of the Year" after leading the Titans to their first ever Division 3 national championship.
Bridges, a native of Anchor, Il. (25 miles east of Bloomington) attended Illinois Wesleyan from 1957 to 1961. At IWU he was a four year letterman and starter in basketball and baseball and a three year football letterman (and all conference quarterback). Bridges was a two year captain on the basketball team and was voted most valuable player and all-conference his senior season. After graduation in 1961 he coached at Plainfield High School for 4 years before taking over as head coach of the Titans in 1965, replacing legendary coach Jack Horenberger.
Non-Conference Schedule
Reflecting the recent shift in NCAA Division 3 playoff selection criteria, the 2000-01 IWU basketball schedule is heavily weighted with Midwest region opponents. Of the Titans 11 non-conference games, 7 will be against teams from the region (as opposed to only 3 of 11 last year). The Division 3 Championship Committee sent a pretty clear message to regional heads last year that in-region wins will be weighted more heavily than out-of-region wins under the new structure. So instead of playing the likes of national D3 powers Wittenberg and Nebraska Wesleyan, the Titans will face Blackburn, and MacMurray in the early going. Regardless, IWU's non-conference schedule is still very strong.
Possibly the biggest game on Illinois Wesleyan's non-conference slate is their second contest of the year. On Saturday November 25 the Titans travel to Hyde Park to take on University of Chicago. The Maroons are coming off a 23-4 campaign, which saw them make the Division 3 playoffs. (Chicago was eliminated in Round 1 by WIAC champion Wisconsin-Stevens Point.) Sophomore Derek Reich broke the school's all-time record for points in a single season, scoring 487 points as a freshman. The Luke Kasten/Derek Reich match-up will feature two of the best sophomores in the country.
In addition to Blackburn and MacMurray, The Titans host Aurora, Washington U., Olivet Nazarane, and Ripon. Olivet is coming off a NAIA Division 1 Final Four appearance last season. Wash U and Ripon are regular Midwest Region playoff participants, and Aurora took IWU to triple overtime last season.
In addition to the road contest at University of Chicago, the Titans also travel to Benedectine, Palm Beach Atlantic (for 2 tournament games), and NCAA Division 2 Florida Tech. Benedictine features returning All-Midwest region 1st team performer Terry Frigo. At the PBA tournament, one of IWU's opponents will be University of Wisconsin-Superior. The Yellow Jackets of the WIAC conference finished 15-11 in 1999-00, including WIAC victories over two-time defending NCAA D3 champion Platteville and last year's conference champion, Stevens Point.
CCIW Outlook
Coming off it's first ever outright CCIW championship, and loaded with good, young players, Carthage College is clearly the favorite to win the 2000-01 CCIW championship. Last season the Redmen finished 22-4 overall, and 11-3 in the CCIW. Coach Bosko Djurickovic, who won Division 3 national championships at North Park in 1985 and 1987, has assembled a very talented cast, led by 3 stars - 6-8 junior Jason Wiertel, 6-4 sophomore Rob Garnes, and 6-2 sophomore Antoine McDaniel. Wiertel averaged 21.6 points and 7.4 rebounds in conference play last year, and was named CCIW Co-Most Outstanding Player , sharing the award with Illinois Wesleyan's Korey Coon. He was also named 2nd team NABC/Oldsmobile All-American and first team all-region. Rob Garnes exploded on the CCIW scene his freshman season, averaging a double-double in 14 league games - 15.2 points, 10.4 rebounds. Garnes, who is also a standout wide receiver for the Redmen football team, is easily the best athlete in the CCIW. McDaniel is not as flashy, but he is a very solid point guard. As a freshman he averaged 9.9 points per game and dished out 40 assists in CCIW play. Division 1 transfer guard Greg Kitistou (Eastern Illinois) returns for his senior season, after averaging 13.7 points per game for the Redmen last year. 6-7, 224 pound Jim Oboikowitch rounds out the starting five. (Carthage season preview.)
After the Redmen the CCIW appears to be wide open in 2000-01. At this early stage it appears Illinois Wesleyan, North Park, and Wheaton would be the top 3 favorites to challenge Carthage, but Millikin, Elmhurst, and Augustana may also join that mix. It is simply too early to tell.
Final Thoughts on the Upcoming Titan Season
This will be a fun year to be an Illinois Wesleyan basketball fan. Dennie Bridges has assembled an extremely talented young group of players, but many questions remain. Will look Luke Kasten continue to develop into a dominant player in the CCIW? Will Adam Osborn emerge as one of the best guards in the conference now that he is out of Korey Coon's shadow? Will Laban Cross and Seth Hubbard emerge as impact players? How effective will 5th year senior Mike Rogers be in his return from injury? Can IWU compete with Carthage?
Only time will tell the answers to these questions, but history shows that Dennie Bridges always gets the most out of his players, and this Titan team certainly has the talent to do big things.
---
The Titans Have Many Questions to Answer Before They Take the Floor on November 21.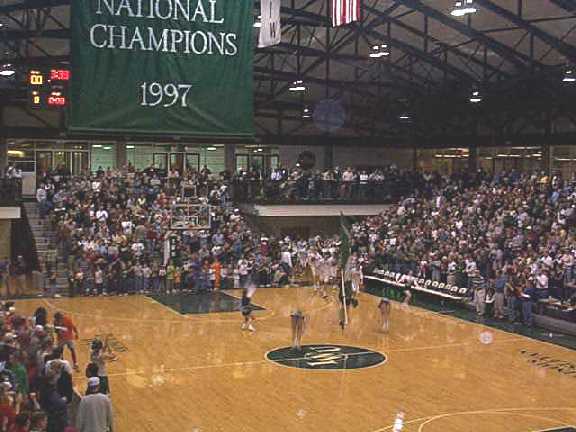 ---