Trost, Titans Building a Solid Foundation for Success
2002-03 Illinois Wesleyan Season Preview, by Bob Quillman - IWUHoops.com
November 1, 2002
---
The 2002-03 Preview is sponsored by former Titan Mark Aubry (class of 1995).
Special thanks to Mark for supporting IWUHoops.com!

Mark J. Aubry, Financial Consultant
326 Susan Dr. - Normal, Il. 61761
Office phone: 454-4344
E.Mail: mark.aubry@axa-advisors.com
---
Season Schedule, Links to All Opponents
The Shirk Center - Home of the Titans
---
What a difference a year makes. Twelve months ago, the folks at D3Hoops.com rated Illinois Wesleyan #2 in the nation in their annual preseason poll. The 2001-02 Titans returned 7 of their top 10 players (including 3 starters) from a squad that reached the Final Four in 2001 and brought home the national third place trophy. Despite the transition from legendary skipper Dennie Bridges, who won 667 games and 17 CCIW titles in 36 years at the helm of his alma mater, to his hand-picked successor Scott Trost, who had spent the previous 5 years as an assistant coach at the University of Michigan, expectations were high for last year's Titans (as they always are).
Now, as the Titans prepare for the 2002-03 season with that Final Four nucleus still on the roster, they find themselves unranked in the preseason and trying to bounce back from one of the worst seasons in school history.
Just how much of an anomaly was the 2001-02 season as far as Titan basketball goes? Well, the 12-12 record represents only the third time in the last 42 years that the school has failed to achieve better than a .500 season winning percentage. The Titan's 6-8 CCIW record last year marked just the 4th time that IWU has finished under .500 in 56 years of conference play.
You'd sure never know about last year's struggles from being around Trost and his players early in the 2002-03 practice season, however. The mood around Titan basketball is upbeat and positive, and there seems to be a very genuine feeling of confidence and excitement pervading the entire team.
Co-captain John Camardella's comments seemed to reflect the attitude of every player I talked to. "The atmosphere around here is a 180 degree change from last year. I have honestly never seen a team so proud and so excited about something…it has been a ton of fun so far and I cannot wait for the season to start."
So here we go again - another year of Titan basketball.
---
A Look Back at Last Season...
Scott Trost knew that expectations at Illinois Wesleyan would be high when he accepted the job in April of 2001. "I came here because the expectations are high," said Trost. "I came to Illinois Wesleyan because of the great tradition and everything that goes along with it and because I want to win." Trost continued, "I was very disappointed in last season, just like I know our players were and fans were."
So what exactly happened? The 39-year old Titan head coach explained that it was a combination of many things. "You really can't say it was just one thing or another. I will say for sure that you cannot underestimate the significance of a coaching transition year," he said. "A new coach can watch all the tape of players he wants, but until he goes into battle with them, there is just a natural learning curve that takes some time. Trust is earned - both the coach trusting his players and players trusting their coach - and that just takes time I think."
Co-captain Luke Kasten agrees. "Realistically, I don't think Coach was 100% comfortable with us, and I don't think we were 100% comfortable with him", said the 6-7 junior. "I think that is a natural part of any coaching transition year."
"Last year we wanted to do so well for Coach (Trost), but I think when you have a relationship, without a solid foundation, you are going to struggle," said Camardella. "To be honest, the level of trust just wasn't there."
Trost feels that this learning curve led to a lack of clearly defined roles for his players. "It's probably fair to say that we had kids who really didn't know their exact role, and to be honest, that is probably because I didn't know for sure either," he said. "Again, until you actually see an individual compete, you don't really know what they are made of."
The Titan offense overall was a major problem in '02-03, according to Trost. IWU averaged just 73.5 points per game, after averaging 81.0 in the 2001 Final Four season and 81.8 in 1999-2000. "Part of that is the fact that I want to play a style more focused on defense and rebounding, but there is no question we struggled to put the ball in the basket last year," he said.
With such a large group of returning players from the Final Four team, Trost decided early last year to run the offense the Titans used to close out the 2001 season. It was a variation of IWU's base offense, called "Spot Up." Bridges created it after the Titans dropped to 15-6 overall and 6-4 in the CCIW in 2001. With the new system in place, IWU won it's final 4 regular season games (including wins over national #1 Carthage and national #2 Elmhurst) and 4 consecutive playoff games, before falling to William Paterson in the national semifinal game. "For consistency, at the time I thought it was the smart thing to do," said Trost. "But I am not sure I fully understood all of the intricacies. It wasn't my offense and I am just not sure I knew how to coach it right."
---
Moving Forward...
Trost says he learned many valuable lessons last season. "More than anything, I have to do things that I am comfortable with. I have to be myself, and from this point on that will be my approach." Trost also feels that his familiarity with this year's cast will help tremendously. "Coming into this year, I have either coached or recruited every player on the roster, and I have a much better feel for my team."
Kasten says the players already notice a difference. "There is such a different feel to things this year," said Kasten. "We all know exactly what Coach Trost wants to do out there, and he knows what each of us is and is not capable of doing."
Camardella explained, "Last year when the season started, we were all still in denial that Coach Bridges was gone…we questioned everything Coach (Trost) did. This season, we know we are playing for Coach Trost and it is just a totally different feeling. It's great."
"It is just a total 'team' approach this year, "Camardella went on to say. "From spending time with Coach away from the court, we have all gained buy-in and we are ready to go into battle with him."
In talking to Trost, it sounds like he ideally wants to find a rotation of 8 or 9 players this season. "Last year, I never had a consistent substitution pattern and I was very inconsistent with playing time," he said. "I want to have very clearly defined roles this year."
To get to that rotation of 8 or 9 players, Trost has some tough decisions to make. There are 23 Titans on the roster right now, led by a very talented 7-person senior class. It does seem that the nucleus for the 2002-03 season is starting to take shape though.
---
The Main Nucleus...
Luke Kasten, Co-Captain (6-7/215 Senior, Forward, Hillsboro H.S.)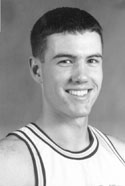 Luke Kasten is in some pretty elite statistical company entering his senior season. Only one player in the illustrious history of Titan basketball scored more points through his junior season than Kasten - Jack Sikma. Kasten won't catch the 7-time NBA all-star and basketball Hall of Fame candidate, who scored an amazing 837 points his senior season in 1976-77, but he has a chance to become the third player in Wesleyan history to score 2000 points. With a scoring average per game of 23.4 points for 25 games, the Coffeen native would reach that elite plateau.
| | | | | |
| --- | --- | --- | --- | --- |
| Player (graduation yr) | Points Through 3 Yrs | Points, Senior Season | Career Total | Rank on IWU All-Time Scoring List |
| Jack Sikma (1977) | 1435 | 837 | 2272 | #1 |
| Luke Kasten (2003) | 1415 | ? | ? | ? |
| Greg Yess (1982) | 1337 | 532 | 1833 | #4 |
| Blaise Bugajski (1984) | 1324 | 738 | 2062 | #2 |
| Korey Coon (2000) | 1232 | 550 | 1782 | #5 |
(Bryan Crabtree, class of '97, scored 678 points his senior season and finished with 1871 career points -- #3 all-time.)
With 632 points this season (25.3 per game, 25 games), Kasten would become one of the Top 30 scorers in the history of Illinois small college basketball.
Last season Kasten averaged 18.4 points and 6.6 rebounds per game, earning 1st Team All-CCIW honors for the second consecutive season. From the field, Kasten shot an impressive 163-307 (.531).
"Luke is without question one of the premier big guys in the country," said Scott Trost. "He is a legitimate inside/outside scoring threat."
Kasten worked hard in the off-season to get stronger. He increased his bench press by 30 percent from March 2002 to September 2002 and added 15 pounds.
Trost is excited about that additional muscle on Kasten's frame to help with his post play, and he also sees Kasten's role expanding this year. "I would like to give Luke more opportunities to get the ball facing the basket…most people probably don't know how good he is out away from the basket, because he has been in the post most of his career."
"I honestly do not care where I finish on the scoring list," said Kasten. "I want to win a CCIW championship, and a national championship. I know we have the talent to do both." He added, "We have a bunch of incredibly talented players in the mix this year, who on any given night can be the leading scorer. I don't believe I will need to carry as much of the load on offense this year - we will be much more balanced in all areas."
Trost expects a lot from his senior co-captain in the leadership department. "Luke is one of our captains this season, and my main challenge for him is to make everyone around him better," said Trost. "That is what leaders do."
John Camardella, Co-Captain (6-4/210 Senior, Forward, Arlington Hts - Hersey H.S.)

Every team needs a guy that is willing to do the dirty work, and the Titans have one of the best in that department in 6-4, 210 pound senior John Camardella. Camardella is fully recovered from the reactive arthritis condition he battled all of last season, and in very good shape.
Camardella played in 18 games last season, but started just 4. He averaged 6.8 points and 4.8 rebounds per game and just never looked quite right out on the floor.
"Last season was heartbreaking for me - my injury, our record, everything. I started working with a personal trainer during the summer, trying to get my vertical back. I am now back to a 33 inch vertical and I feel great," said Camardella. At 210 pounds, the Hersey High School product is down 20 pounds from the weight he played at in 2001-02.
Trost thinks the return of a healthy John Camardella this season will be a huge boost. "The impact of having John back at 100% is immeasurable. He has tremendous spirit, he's selfless, a competitor, a great leader, and he is just a warrior."
"I told Luke (Kasten) that I am the fullback and he's the running back," said Camardella. "I just want to do all of the little things to free him, and everyone else, up to score."
A Talented Cast of Point Guards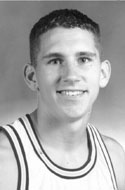 Jim Lehan
"The point-guard is probably the most important position on the floor," said Trost. "I am not sure we were ever really comfortable at that spot last season."
Trost used Chris Silagi (6-2/190, senior, Oswego H.S.), Jim Lehan (5-11/165, junior, DeKalb H.S.), and Shawn McGuire (6-1/190, junior, Prairie Central H.S.) in the point-guard role last year, but never seemed to have a consistent flow at the position. "We eventually went with Chris, because we felt we needed his scoring ability on the floor, but Chris is really more of a shooting guard," said Trost. "Playing him at the point, you take the opportunity to shoot away from him to a certain extent. To be honest, I was really not completely fair to Chris, Jimmy, or Shawn in the way I used them last season."
This year, Trost says the point-guard battle is between Lehan, McGuire (both juniors) and freshman Adam Dauksas (6-3/180, Homewood-Flossmoor H.S.). "Those three are more suited for the role…we will use Chris (Silagi) where he is most comfortable and create opportunities for him to shoot the ball within our offense." At this point, Trost says the competition is very close. "Jim and Shawn are both doing a great job right now. Adam is working hard to adjust to this level and he's very much in the mix."
"Right now, I am just trying to learn everything I can," said Dauksas. "I envision my role on this team as providing a spark and getting the ball to our scorers."
Three Strong Options at Shooting Guard
Scott Trost has a tough decision to make at the 2-guard position as well - a decision between 3 very talented players. At the time of this piece, he is not sure if Laban Cross (6-2/185, senior, McLeansboro H.S.), Chris Silagi, or Eric Starkey (6-2/185, senior, Milford H.S.) will be his starter.
Cross earned 3rd team All-CCIW honors last season after a strong finish. The 6-2 senior averaged 21.3 points and made 17 of 31 3-point attempts (.742) in the Titan's final four games, including a 32 point outburst against Wheaton. On the season, Cross averaged 12.0 points per game and shot 51-130 (.392) from beyond the arc.
Silagi started 18 of IWU's 25 games in 2001-02. He averaged 10.3 points and was 40-129 (.310) from 3-point range. Silagi scored a season-high 28 points at Augustana on February 16.
Cross and Silagi, the team's best "pure shooters", both struggled with their consistency at times in 2001-02.
"Laban just had a stretch last year where he lost his shooting touch…but at the end of the season, he was great," said Trost. "With Chris, again, I think he was playing out of position (at point-guard) most of the year, and I don't think he was getting his shots in the right situations." He added, "I'd like to see Chris and Laban both shoot a better percentage this year…I want to put them in good positions to score."
6-3 senior Eric Starkey is opening the eyes of many lately, including his coach. "Eric has really, really played well so far - he is right there in the mix," said Trost. "He is definitely our best perimeter defender, and he brings so many good things to the floor."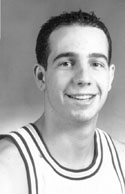 Eric Starkey
Starkey started 10 games in 2001-02 at the small forward position, in Camardella's absence. He averaged 24 minutes per game on the season as a whole, and scored 5.9 points and pulled down 4.4 rebounds per contest.
Starkey seems very intent on helping the Titans win this season. "Whatever Coach wants me to do, I will do it," he said. "If that means I am a starter, great. If it means I come off the bench, that is fine too."
It is safe to say that Starkey will get big minutes this season, whether it's as a starter or off the bench, and whether it's at the shooting guard position or small forward.
Seth Hubbard (6-7/220, Senior, Center)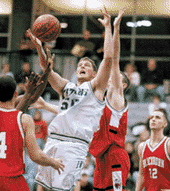 If the Titans are to succeed in 2002-03, they are going to have to get senior Seth Hubbard much more involved in the offense than he was last year. Hubbard, a tremendous offensive post player, averaged just 7.9 points. His field goal percentage was outstanding, however -- 68-124 (.548). Compare Hubbard's 124 attempts to Kasten's 307, 239 from Cross, and 238 from Silagi and the offensive distribution just didn't seem quite right.
"We have to do a much better job at getting Seth the ball," said Trost. "He is great with his back to the basket, and we have to take advantage of that."
Trost is very pleased with Hubbard's off-season commitment. "Seth worked very hard this summer - that is obvious. We need big things from Seth this season, and he knows that."
Others in the Mix
Depth in the post is a question mark right now for Scott Trost, but he likes his options. Michael McKean (6-5/220, freshman, CPCI H.S.), Marty Eich (6-7/215, senior, Palatine H.S.), Steve Jeretina (6-7/230, sophomore, Buffalo Grove H.S.), John O'Brien (6'6/215, junior, Bloomington Central Catholic), Cory Jones (6-5/195, freshman, Thornwood H.S.), and Steve Schweer (6-6/200, freshman, Hinsdale Central) are all getting a very close look.
"Competition has been great so far, and I am in no hurry to make a decision," said Trost. "In two weeks, I will have a much better idea."
6-6, 210 pound freshman Keelan Amelianovich (Neuqua Valley H.S.) has been wowing people since the first open gym in early September. "Keelan is going to be the best player in the CCIW someday. I have no doubt about that," said Eric Starkey.
Trost smiles everytime he talks about Amelianovich. "Keelan is going to be very special player. He can, as Dennie (Bridges) says, 'put the ball in the basket.'" Trost isn't quite sure what Amelianovich's role will be this season, but he expects him to see varsity minutes. Amelianovich seems content with whatever he's asked to do. "We have a ton of scorers on this team. If I can help do some little things, that would be great," he said.
The Freshmen
John Camardella couldn't help but chuckle as he thought back to a day during the first week of practice. "I got a steal and was all alone, heading to the basket. All the sudden, wham - I am attacked from behind. It's (Steve) Schweer. I wanted to kill him, until I realized, 'You know, that was me 3 years ago.' I got to thinking, 'This is the next me'…except this kid is way crazier than I am!"
Every player I talked to in writing this piece was full of compliments for the much-heralded IWU Class of 2006. "This group of kids has brought so much energy to our team, it is amazing," said Kasten. "And man, are they good."
In addition to Dauksas and Amelianovich who are very much in the mix for varsity minutes, the stock of Michael McKean seems to be rising as of late. "Mike is a ton," said Kasten. "I think he has a real good chance of playing this year."
Jason Fisher (6-2/190, guard, Delavan H.S.) probably has too many upperclassmen ahead of him this year at his position (shooting guard), but Trost says Fisher's day will come. "I have never coached a player at this level as athletic as Jason," he said. "He is going to be a really good player in our league very soon."

Jason Fisher
Mike McGraw (6-2/170, guard, Litchfield H.S.) says he is working hard and enjoying his first year of college. "This is a big step up for me," said the Class A Litchfield product. "I have to get stronger and get better defensively. The older guys have been great though, and this has been a lot of fun so far. We have a great group of guys."
Chris Jones (6-5/195, freshman, Thornwood H.S.) is also working hard to improve, as is Matt Arnold (5'11/145, Bloomington, In.). Titan fans should keep their eyes on Arnold, who is the "walk-on" of the group. I'm betting that the 5'11 (a measurement that I believe may have been taken while he was standing on the Blooomington, Indiana phone book) point-guard will not only be a fan favorite at the Shirk Center someday very soon, but that he'll also help the Titans win big CCIW games.
---
The Non-Conference Schedule...
The Titans, as always, will play one of the most difficult tune-up schedules in all of Division 3. They open at Wabash College's Little Giant Classic, where they face DePauw on Friday November 22. The Tigers went 24-4 in 2001-02, including 16-2 in the SCAC. They advanced to the Elite Eight, where they were defeated by eventual national champion Otterbein, on Otterbein's home floor.
The next night they will face the winner of Purdue-Calumet and the host Little Giants. Wabash was 15-11 last year and very much a contender for the NCAC crown, along with Wittenberg and Wooster. They feature 6'6 forward Joe DesJean, who is on everybody's preseason All-American teams. DesJean averaged 18 points and 10 rebounds per game last season.
On December 4 the Titans travel to Hyde Park to take on the University of Chicago, and 1st team All-American Derek Reich. Reich was named the "Division 3 Preseason Player of the Year" by Division III News.
The highlight of IWU's non-conference schedule is probably the December 8 contest at the Shirk Center, versus Washington University. The Bears enter the season as the consensus #1 team in Division III. Wash U. returns all five starters from a team that went 25-2, and advanced to the Sweet 16, last year.
It doesn't get much easier after Wash U., with NAIA Division I power Olivet Nazarene coming to the Shirk Center on December 14. The Titans and Tigers have faced each of the last seven seasons. Olivet ended a six game IWU winning streak last season, defeating IWU 88-81 in overtime. The Tigers enter the season ranked #18 in NAIA D1, but they will have to find a way to replace their all-time leading scorer, Zach Freeman, who graduated in 2002.
A trip to warm and sunny Hawaii awaits the Titans after Christmas, but while there they will face three quality Division III opponents -- Nebraska Wesleyan (who the Titans defeated in the 1997 national championship game), St. John's, and UW-Stout. Stout plays in the powerhouse Wisconsin Intercollegiate Athletic Conference -- a league that has produced six NCAA Division III national champions.
"There is no question we are playing the best non-conference schedule in the CCIW," said Trost. "I think it is important that we don't get too high or too low early on, and just realize that we are preparing for the conference season."
---
The League
| | |
| --- | --- |
| Final 2002 CCIW Standings | W-L |
| Carthage | 13-1 |
| Augustana | 9-5 |
| Elmhurst | 9-5 |
| Wheaton | 6-8 |
| North Park | 6-8 |
| Illinois Wesleyan | 6-8 |
| North Central | 4-10 |
| Millikin | 3-11 |
"Our number one goal is to win the CCIW," said Trost. "That goal will never change."
Trost realizes just how difficult that will be, though. "Well, first you have to look at Carthage. They return (Rob) Garnes and (Antoine) McDaniel and have a Division 1 transfer (Kevin Menard, Marquette University)." Carthage is coming off it's best season in school history. The Redmen went 28-2 in 2001-02 - including 13-1 in the CCIW - and advanced to the Division 3 Final Four, earning a national 3rd place finish.
Listening to Trost, it seems he puts Augustana right up there as the favorite with the Carthage. "Augie has their whole team back and they are very hard to play because of their style and intensity," he said. "They have a great player in Drew Carstens."
"Augustana has one of the best backcourts in the country," said Kasten. "They will be very good, and so will Carthage, even after losing (Jason) Wiertel and (Jim) Oboikowitch."
"I think Wheaton will be very good too," said Trost. "They lost (Kevin) Blomstrom, but they have (Joel) Kolmodin back, and I know they are big on John Stevens."
Trost feels that the level of play in the CCIW as a whole is improving. "Top to bottom, it is just tough. I talked about some of the "favorites", but Elmhurst can always beat you, North Park looks to have some players, and I think they are excited at North Central and Millikin this year," he said. "Overall, it is just a great small college league - one of the best in the country."
Eric Starkey says there is one very clear key to IWU's CCIW fortunes in 2003. "We have to play better on the road this year - that has been our biggest problem," he said. "Any team can beat you any night, so you just have to be so focused.
---
Final Thoughts...
I ended every player/coach interview with the same question -- "So, what is the number one key for the upcoming season?" The responses all sounded very similar.
"Chemistry," said head coach Trost. "I think sometimes X's and O's are overrated - we need to develop a true 'team' mentality this year and play within our roles. I need to make sure our guys know what those roles are."
Co-captain Camardella explained, "Without a doubt, the most important thing for this year is developing team chemistry. I think that was our biggest problem last year."
IWU's other co-captain, Luke Kasten, hit on it too. "Chemistry. No question about it. We have enough talent to have a really big season, and if we can find that right mix and attitude, we are going to be very good."
So chemistry it is!
I have to say that I agree. Watching the Titans last season, it was very clear to me that they had enough talent to win, but there was just something wrong with the team dynamics -- some kind of missing intagible ingredient. After talking to Scott Trost and many of the Titan players in preparing this piece, I now know that my assumption was correct. As a Titan fan, what I am most encouraged by is the fact that all of the key players recognize what happened last year, why it happened, and they all seem 100% commited to making sure it does not happen again this season.
I think John Camardella said it best. "We are trying to build a foundation here - a strong foundation for success."
I know one thing...I'm not betting against them.
---
Special thanks to Scott Trost and all of the Titan players for their forthcoming and candid comments. I asked some pointed questions and got very honest answers. I wish all of you the best this year.
Proud to be a Titan,
- Q